High-Throughput Peptide Epitope Mapping
* Please be kindly noted that our services can only be used for research to organizations or companies and not intended for individuals.
Epitope mapping is the process of experimentally determining the binding site of antibody on its target antigen. On the one hand, epitope characterization is helpful to explain the mechanism of binding for an antibody. At the same time, characterization and identification of antibody binding sites also contribute to the development of new diagnostics, therapeutics and vaccines. On the other hand, antibody epitope mapping involves a precise localization of its binding site on target proteins, which is crucial for understanding protective immune mechanisms. Epitope mapping is also of vital importance to both vaccine and drug developers since exact epitope definitions are of paramount importance for patentability. Epitopes are generally divided into two classes: linear and conformational. Linear epitopes are formed by a continuous sequence of amino acids in a protein. Conformational epitopes are composed of amino acids that are discontinuous in the protein sequence but brought together upon three-dimensional protein folding. Most antigen-antibody interactions rely on binding to conformational epitopes. Label-free and real-time epitope mapping using technologies such as surface plasmon resonance (SPR) can dramatically reduce time and effort involved in monitoring antibody binding because it does not require detection components like secondary antibodies and labeled moieties. SPR measures changes in the refractive index of binding events in real time, but the technology requires an expensive and sophisticated optical system.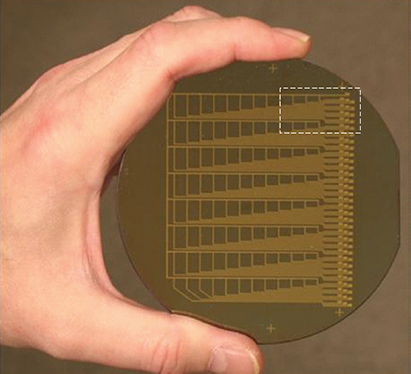 Fig1. 96-circuit SWCNT-FET wafer (International Journal of Peptides, 2013)
High-Throughput Peptide Epitope Mapping Using Carbon Nanotube Field-Effect Transistors
To investigate the ability of single walled carbon nanotubes field-effect transistors for high-throughput assays, epitope mapping using an overlapping 15-mer peptide library comprising the gp160 HIV-1 viral envelope protein, which is the primary target for generating HIV-1 specific antibodies that can prevent infection. The 15-mer peptides were coated onto single walled carbon nanotubes field-effect transistors circuits and they were scanned using two antibodies with known gp160 epitopes. This peptide library was made using the gp160 sequence of a different HIV strain than that was used to generate the antibodies, so there are some sequence differences. Regardless of these differences, the binding data agrees well with known specificities of these antibodies, and the single walled carbon nanotubes field-effect transistors binding data was obtained in minutes.
Our Services (include but not limited to the following)
Ability to provide epitope mapping services with high accuracy and efficiency.
Reduce the time and cost of pharmaceutical testing.
Low sample consumption, facile sample preparation.
High-throughput epitope mapping in real time, using one antibody and nanogram quantities of peptide.
Graphical representation of the data.
Identification of critical interacting residues.
References:
1. Stefansson, S., Knight, M., Kwon, H. H., Stefansson, L. A., &amp Ahn, S. N. (2013). High-throughput peptide epitope mapping using carbon nanotube field-effect transistors. International journal of peptides, 2013.
2. Potocnakova, L., Bhide, M., &amp Pulzova, L. B. (2016). An introduction to B-cell epitope mapping and in silico epitope prediction. Journal of immunology research, 2016.
3. Flanagan, N. (2011). Mapping Epitopes with H/D-Ex Mass Spec: ExSAR Expands Repertoire of Technology Platform Beyond Protein Characterization. Genetic Engineering &amp Biotechnology News, 31(10), 10-13.
If you have any peptide synthesis requirement in mind, please do not hesitate to contact us at
. We will endeavor to provide highly satisfying products and services.
Related Peptide Service
Customer Support & Price Inquiry