Peptide CDMO
* Please kindly note that our products and services can only be used to support research purposes (Not for clinical use).
Peptides are a class of compounds consisting of multiple amino acids linked by peptide bonds, usually consisting of 10 to 100 amino acid molecules, combined in the same way as proteins, with a relative molecular mass below 10 kDa. Peptides, as a modality of the drugs, are now widely used in the prevention, diagnosis and treatment of diseases such as oncology, diabetes and AIDS.
Creative Peptides is a leading CDMO providing custom peptide services from early development to commercial production, supporting pharmaceutical and biotech companies in the development and manufacture of proprietary and generic peptide active pharmaceutical ingredients (APIs).
Custom Peptide Services
IntraCellular Delivery System (ICDS™)
Custom Peptide Manufacturing
Peptide CDMO

Advantages of Peptide Drugs
Have high safety and high affinity.
Most of them use endogenous peptides as templates (mostly various hormones), with low off-target risk.
The chemical synthesis of peptides is well established and allows easy introduction of unnatural amino acids and other modifications.
Relatively low immunogenicity.
From the statistical data, the probability of peptide drugs being approved for marketing through clinical trials is higher than that of small molecule drugs.
CDMO Services
Contract research for API production process
Contract research for formulation process
Synthesis and production services for peptide drugs
Marketing license holder (MAH)
1. New Drug Application (NDA)
Supply of raw materials for clinical research, new drug support, regulatory support
2. Generic drug project (ANDA)
Co-filing of peptide generics,
Small-scale process research and optimization, pilot test and process validation
Analytical method development and validation, quality research, control preparation, impurity preparation
Structure confirmation, stability study, CMC writing
How Can Peptide CDMO Help You?
The special nature of peptides production process leads to its inability to use the development and production facilities of small molecule drugs and biologicals. From the cost point of view, it is an economical choice for peptide-based biotech companies to choose to cooperate with CDMO companies that have a complete set of facilities for peptide drug research and production.
High efficiency and success rate
Peptide drugs are very different from small molecule drugs and biologics in terms of pharmacological research, including process development, impurity research, structure identification, etc. General biotech and pharmaceutical companies have limited pipeline to layout peptide drugs, therefore, professional peptide CDMO is a good choice for co-development, which can reduce the failure risk and help peptide drugs enter the market faster.
The compliance requirement of peptide drugs is special. Working with a professional peptide CDMO, the R&D and manufacturing system will be managed accordingly according to the compliance requirements of peptide drugs.
Why Choose Creative Peptides?
Advanced process technology
In the field of peptide drugs, Creative Peptides has laid out peptide APIs or formulations in the therapeutic areas of oncology, diabetes, cardiovascular diseases and other diseases, and realized the large-scale production of various peptides. Based on the solid/liquid phase peptide synthesis platform, we provide pharmacological research services from process development, to small pilot, pilot, process validation and quality study, as well as one-stop customized production services for drug development and commercial production.
Highly proficient development team
Creative Peptides has well-equipped peptide production and testing facilities and a first-class professional development team in the field of peptides to support custom peptide services and peptide scale up production. We have established close cooperation with biotech and large pharmaceutical companies, and have extensive experience in peptide development, filing and production.
Creative Peptides always insists on providing high quality peptide products. Our testing program includes product purity, molecular weight, sequence identity, solvent residues, amino acid analysis, salt content, peptide content and endotoxin. Meanwhile, we can ensure batch stability and product quality.
Reliable quality certification
Creative Peptides has extensive experience in peptide drug development, registration and manufacturing. We have development and production workshops that meet GMP and FDA filing requirements and have the ability to generate peptide APIs and cosmetic peptides on a large scale. Meanwhile, we have established a reliable quality management system and are committed to meet the peptide development needs of global customers.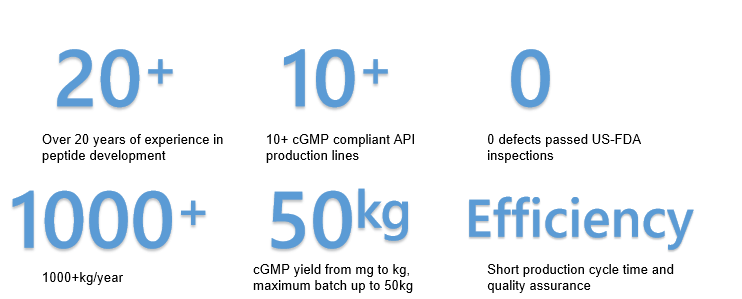 Fig. 1 Synthesis of recombinant peptide
Facility
Equipped with advanced instruments such as UPLC, HPLC, preparative chromatography, LC-MS/MS, GC/MS, IC and controlled release formulation research equipment
Production system

500L, 10000L enameled reactor (SPPS)
20L, 50L, 100L glass reactor (SPPS)
200L-1000L stainless steel reactor (SPPS)
100-300L cracking reactor

Purification system

Preparative HPLC
Chromatography columns 150-1000 mm (diameter)
Large scale available