Peptide-RNA Conjugation
* Please kindly note that our products and services can only be used to support research purposes (Not for clinical use).
Creative Peptides provides high-quality Peptide-RNA conjugates through selective cross-linking chemical reactions. Creative Peptides offers a wide range of synthesis scales, modifications and purifications to customize your strict requirements for Peptide-RNA Conjugation.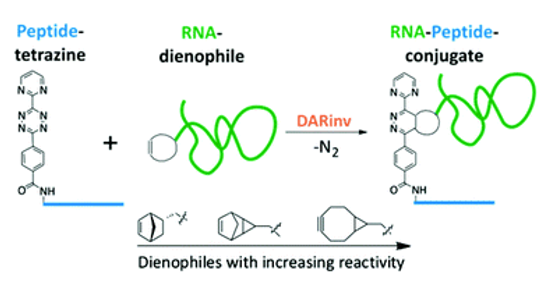 Introduction of Peptide-RNA Conjugation
Peptide-RNA conjugate is considered a useful drug because its stability is much better than RNA. Methods for preparing peptide-RNA conjugates include: post-synthesis coupling method (or post-assembly coupling method and fragment coupling method), fully stepwise synthesis method (or online solid-phase synthesis method), natural coupling method and template orientation coupling method. For Peptide-RNA conjugates, 2'-O-methyl RNA is a recommended analog, which is resistant to degradation by single-stranded ribonuclease. Creative Peptides uses click chemistry to synthesize Peptide-RNA conjugates. Both peptides and oligonucleotides are first modified to perform biological orthogonal ligation reactions. These peptide-RNA conjugates are becoming more and more important in antisense therapy because they are identified as active carriers that can enhance the cell delivery of antisense oligonucleotides. RNA and peptide synthesis are produced and conjugated by our expert scientists in biological binding chemistry. According to strict biosynthesis quality assurance and quality control standards, every peptide-RNA conjugate is strictly monitored in every production cycle.
Application of Peptide-RNA Conjugation
Peptide-RNA conjugate is an important tool for studying protein-nucleic acid and peptide-nucleic acid, and also a promising biological conjugate for nucleic acid transport and therapy.
Peptide-RNA Conjugation can be used for: cancer immunotherapy technology, CRISPR / genome editing, liquid biopsy, single cell analysis, nanopore sequencing, nanoparticle drug delivery and structure-based drug design.
Peptide-RNA conjugates also have certain potential in the treatment of siRNA, cell penetrating peptides and aptamers.
The customized Peptide-RNA Conjugation service provided by Creative Peptides has been widely used in detection development, such as hybridization detection, FISH, chip detection, cell imaging, in vivo imaging and homogeneous DNA detection.
Our Services
Double-stranded RNA-peptide conjugation
Coupling of single amino acid to RNA
Coupling of peptides to siRNA
Labeling of peptide-RNA conjugates with fluorescent dye or other modifications
Our Advantages
Fully traceable documentation system
Innovative products
High quality service
High repeatability between batches
Product quality is stable and reliable
Low sales price
Reference
Ameta, S. , Becker, J. , &amp Jaeschke, A. . (2014). Rna-peptide conjugate synthesis by inverse-electron demand diels-alder reaction. Organic &amp Biomolecular Chemistry, 12(26), 4701-4707.
If you have any peptide synthesis requirement in mind, please do not hesitate to contact us at . We will endeavor to provide highly satisfying products and services.
Customer Support & Price Inquiry