Peptide Drug Conjugates
* Please kindly note that our products and services can only be used to support research purposes (Not for clinical use).
Bioconjugation is a chemical strategy to form a stable covalent link between two molecules, at least one of which is a biomolecule. The field of bioconjugation has had a considerable impact on academic research, clinical diagnostics and the production of therapeutics. Peptides are an important type of molecules for derivatization by bioconjugation. Peptide–drug conjugates hold a promising stance in the delivery of therapeutic agents by providing distinct advantage of improving therapeutic potential of drugs. Both linear and cyclic peptides have been explored as trafficking moiety due to ease of synthesis, structural simplicity, and low probability of undesirable immunogenicity.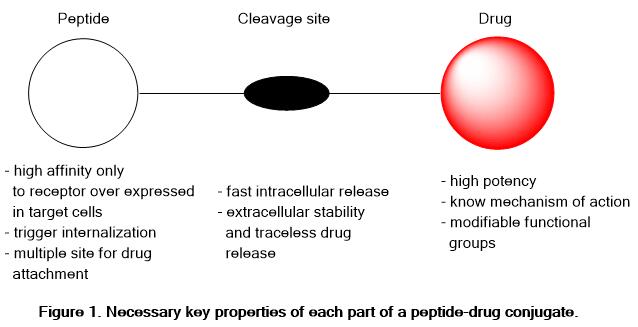 Why Need Peptide Drug Conjugates?
Drugs on the market are usually categorized as small molecules and macromolecules. As is known to the pharmaceutical chemists, most small molecule drugs go into cells easily and keep stable when taken, but poor specificity and selectivity always enhance their toxicity. On the contrast, macromolecules such as proteins and antibodies possess fairly good activity and selectivity, however, their ability of penetrating across cell membrane is restricted. To compromise these defects, peptides of appropriate size seem to be an ideal choice which have potential of both cellular penetration and good selectivity. Lots of bioactive peptides with good membrane penetrability or targeting ability have been discovered. Peptide-drug conjugates (PDCs) is such a drug delivery strategy by attaching these peptides to payload drugs. Drugs with the help of the peptide are supposed to travel across the membrane easily and reach the target with reduced non-target penetration and resulted side effects.
Our Peptide Drug Conjugates Services
Generally, structure of PDCs is composed of three functional parts, including peptide carrier, linker and payload drug. Creative Peptides provides a one-stop solution for all of your peptide-drug bioconjugation needs. Our custom peptide synthesis, peptide modification, and conjugation services involve chemical modification of peptide at highly specific sites. This allows for the elegant attachment of drugs or bioactive molecules though a wide variety of coupling techniques. Each peptide-drug conjugate is meticulously monitored during synthesis and controlled according to our quality assurance and quality control standards. In addition to custom conjugation services, we also offer individual functional parts.
Peptide carrier: we offer the common peptide carrier, including cell-penetrating peptides and cell-targeting peptides.
Linkers: As with conjugation techniques, since each drug molecule and targets have different chemical constraints, the choice of linker is target dependent and influenced by the drug molecule used, site of conjugation, number of attachment sites available as well as the cleavability and the polarity of the linker. We provide the following linkers:
Cleavage linkers: they refer to those whose structure in part is degradable after penetrating the membrane and getting into the cells, for instance, linkers with structure of hydrazine (pH-sensitive), Glycine-Phenylalanine-Leucine-Glycine (enzyme-sensitive), disulfide bond (reduction-sensitive), etc.
Non-cleavage linkers: they are relatively stable, carbon chains, amido bonds, ether bonds or other structures with physical and chemical properties of stability are all belonged to this category.
Payload Drugs: Anti-tumor cytotoxic agents such as Doxorubicin (DOX) and Paclitaxel (PTX). In addition to this, other payloads include peptides, siRNAs, antisense oligonucleotides and so on.
Our Procedures
All custom synthesis of biomolecules, modification, or bioconjugation services are manufactured under strict quality control processes.
Analytical HPLC and MS analyses are performed in every development cycle.
Final target conjugates must first be isolated from excess or unreacted reagent.
In many cases, simple dialysis may suffice to remove unreacted reagent from the reaction solution.
The cross-linked target molecule may then be further characterized by biochemical or biophysical techniques.
HPLC may also be used to either remove excess reagent or to isolate and characterize the cross-linked product.
QC (quality control) and QA (quality assurance) procedures are also followed independently to ensure the highest quality possible of every delivered conjugate.
The typical delivery consists of lyophilized sample in individual fully labeled vials. The shipment also contains COA, MS, HPLC and/or other analytical data. Additional analytical data is also available upon request.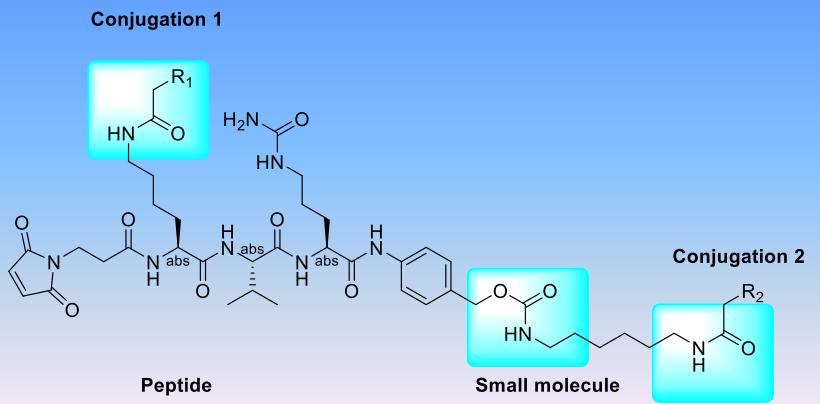 Some cell-penetrating peptides and their source (Zhou J, et, al. 2021)
Some cell-target peptides and their targets (Zhou J, et, al. 2021)
Reference
Zhou J, Li Y, Huang W, et al. Source and exploration of the peptides used to construct peptide-drug conjugates[J]. European Journal of Medicinal Chemistry, 2021, 224: 113712.