Eye Care
* Please kindly note that our products and services can only be used to support research purposes (Not for clinical use).
Periorbital skin is particularly fragile because of the thinness of the epithelium in that area. The skin within this area may be characterized by circles around the eyes, eyelid bags, and puffiness, as well as fine lines and deep wrinkles. Each of these characteristics is a common sign of periorbital skin aging, especially the first sign of aging, wrinkles. By far, Botox has been commonly administered as one of the most effective wrinkle-reducing compounds in the United States. with up to 2.6 million injections in 2014. However, Botox is often questioned for its safety in human consumption, due to its serious side effects. As a topical mimetic of Botox, Acetyl hexapeptide-3 is a more safety replacement product of Botox for periorbital skin rejuvenation, even around eyes.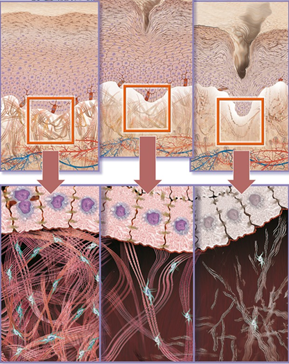 Also if you are still hesitate with Acetyl hexapeptide-3, there are some other options from Creative Peptides, such as Acetyl Tetrapeptide-5 (CPC1610), Dipeptide-2 (CPC1652) and Palmitoyl Tetrapeptide-7 (CPC1626). Acetyl Tetrapeptide-5 is a tetrapeptide with reducing water accumulation properties which been tested in 20 volunteers. Water accumulation, known as edema, can be caused by poor lymphatic circulation and increasing capillary permeability. Acetyl Tetrapeptide-5 can be incorporated in cosmetic formulations such as gels, serums, and emulsions with the function of reduction of puffiness under the eyes. It is also believed that acetyl tetrapeptide-5 inhibits a process in skin known as glycation, which weakens skin supportive elements, resulting loss of firmness and wrinkles. Acetyl tetrapeptide-5 seems to get involved and help skin maintain a smooth resilience that results in a more youthful appearance. Another choice is Dipeptide-2, which is composed of valine and tryptophan, as a skin conditioning agent. Dipeptide-2 is also believed to improve lymphatic circulation, and for this reason it is often used in eye creams aiming to combat dark and puffy under-eye circles.
Cosmetic peptides from Creative Peptides are manufactured under strict quality control (QC) and quality assurance (QA). Creative Peptides also provide clients with current Good Manufacturing Practice (cGMP) cosmetic peptides. If you are interested in consulting any of the cosmetic peptides, please do not hesitate to contact us.