Surface Plasmon Resonance Imaging (SPRi) Service
* Please kindly note that our products and services can only be used to support research purposes (Not for clinical use).
The peptide labeling belongs to a kind of peptide modification synthesis, and the addition of an appropriate label in the peptide molecule is helpful for the study of the peptide. Creative Peptides has vast experience in designing and producing labeled peptides and provides all common peptide labeling services. Our experienced technicians will ensure that the most suitable methods and techniques are selected for each peptide project.
Applications
Through the labeling of synthetic peptides, scientists can identify all the components in the biological system and monitor the quantitative changes that may occur in different metabolic stages (such as different stages of the cell cycle).
Labeled peptides have been widely used
Proteomics quantification
Quantitative post-translational modification protein
Pharmacokinetic and metabolomics analysis
Protein expression tracking
Cell signal analysis and pathway identification
Biomarker discovery
Analysis & Quality
Peptide labeling QC/QA
Our standard quality control includes LC-MS with ion trap, quadrupole or TOF detection, MALDI-MS, or HPLC.
Provides a comprehensive analysis datasheet and corresponding raw data
We provide a variety of optional peptide analysis services, such as
AAA (amino acid analysis)
UHPLC (Ultra-High-Performance Liquid Chromatography)
Determination of residual solvents and water
Solubility or stability test
Labels we provide
Besides the following detailed peptide labeling services, Creative Peptides can also provide you with a variety of reactive tags linked to peptides
Azide (reaction with alkanes-click chemistry)
Maleimide (reacts with sulfhydryl groups, such as cysteine)
Mercaptan (reaction with maleimide)
Cys (Pys/Npys) (reacts with mercaptans to form disulfides)
All custom peptide labeling services include
Free peptide consultation and design
Custom peptides on demand
Specialty peptide modifications
Mass spectrometry and HPLC chromatogram to confirm purity and identity
Provided as a lyophilized powder to minimize oxidation
Service details
Isotopic labeling refers to the replacement of atoms with different heavy isotopes. A common alternative is 12C by 13C, of 14N by 15N, and of 1H by 2H (deuterium). Creative Peptides can provide customized peptides labeled with stable isotopes including 2H, 15N & 13C, respectively, or a combination of 15N & 13C. Even when the peptides are attached with specific modification motifs.
Studies of peptide-protein or protein-protein interactions often involve the use of cross-linking agents, of which photo cross linkers are an effective tool. Creative Peptides can connect appropriate photo cross linkers to peptide, and commonly used photo cross linkers are Bpa and DMNB.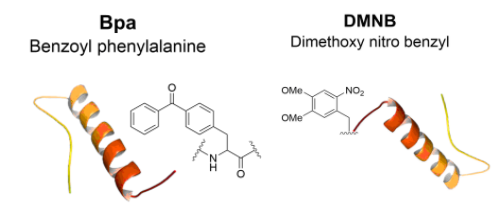 Spin labeling is also a good label pattern in studying peptide-protein and protein-protein interactions. The combination of site-directed spin labeling (SDSL) technology and electron paramagnetic spectroscopy (EPR) is a mature method that is widely used in protein and peptide science. Creative Peptides can apply this technique to the research of interaction of peptides with biofilms, as well as the secondary structure, position, and orientation of peptides in membrane systems. TEMPYO and TOAC are available spin labels.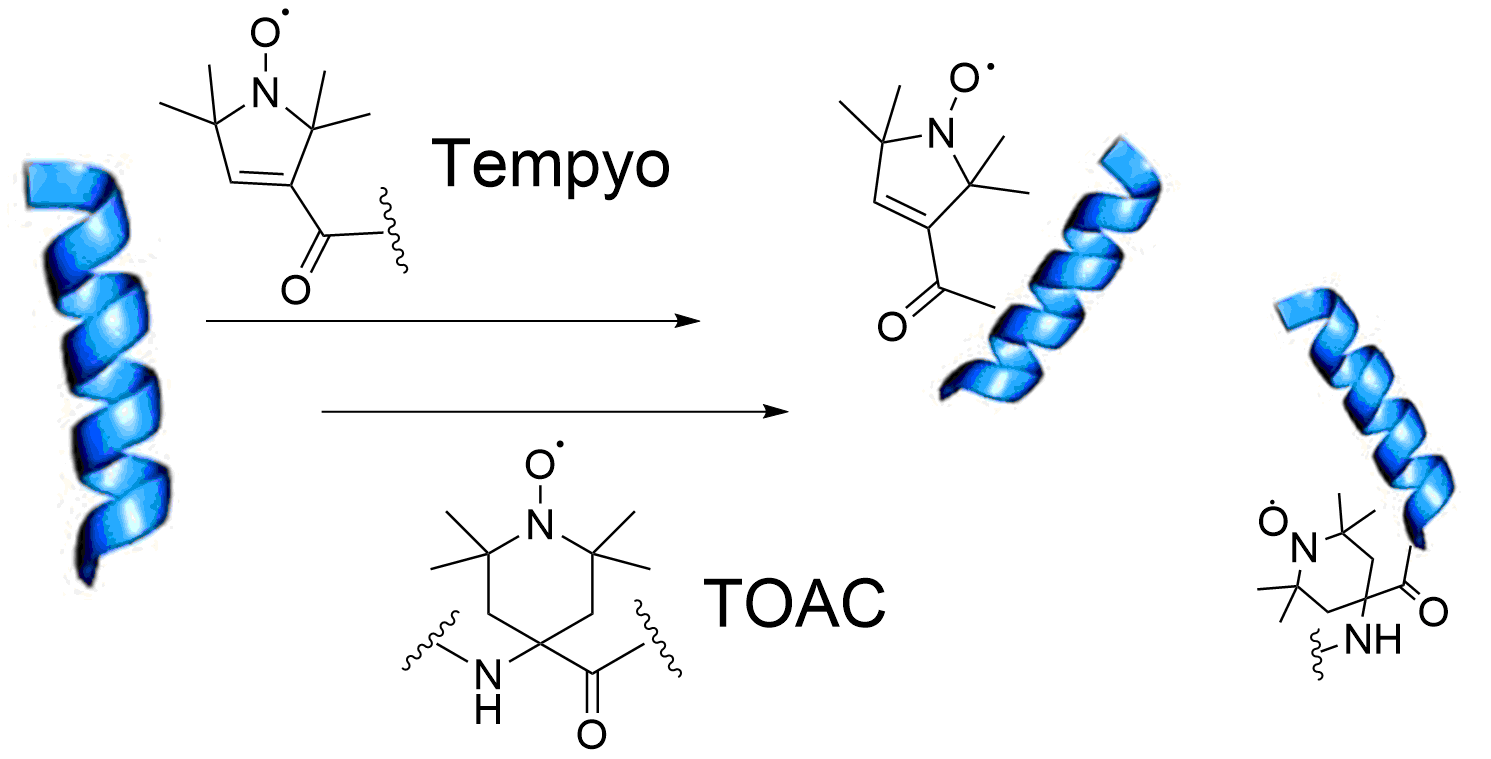 A linker, also called spacers, refers to an extension of a bendable molecule or molecule that can be used to join two molecules of interest, such as a fluorophore attached to one or two peptide molecules. Depending on the design and application, Creative Peptides can insert the appropriate linker between the tags, proteins or fluorophores and peptides. Including but not limited to the following services.

Fluorescent and dyes labeled peptides are commonly used in protein binding or localization studies. These labels can be incorporated into fluorescent peptides or labeled peptides at many locations. Usually, they are incorporated into the N-terminal or Cys/Lys side chain. We can construct any feasible fluorescent peptides according to your requirements.
Biotin is usually attached to the N-terminal or C-terminal, and the N-terminal biotinylation can be carried out directly on the primary amino group, while the biotinylation is usually carried out on the ε-amino group of C-terminal lysine. Creative Peptides routinely synthesizes peptides with the biotin tags.
Tags fused into the target protein can increase the expression level, solubility, folding, purification, and detection of the recombinant protein. The most commonly used small peptide tags are Flag, HA, His, Myc.
References
Yan, F., Che, F. Y., Nieves, E., Weiss, L. M., Angeletti, R. H., & Fiser, A. Photo‐assisted peptide enrichment in protein complex cross‐linking analysis of a model homodimeric protein using mass spectrometry. Proteomics. 2011; 11(20):4109-4115.
Smirnova, T. I., & Smirnov, A. I. Peptide–Membrane Interactions by Spin-Labeling EPR. In Methods in enzymology. 2015; 564: 219-258.
If you have any peptide synthesis requirement in mind, please do not hesitate to contact us at . We will endeavor to provide highly satisfying products and services.
Customer Support & Price Inquiry