If you find Creative Peptides is useful to satisfy your needs, please do not hesitate to contact us!
Surface Plasmon Resonance Imaging (SPRi) Service
Surface Plasmon Resonance imaging (SPRi), namely surface plasmon resonance microscopy (SPRM), is a real-time, label-free, and high-throughput technique which is used to study biomolecular interactions based on detecting the refractive index changes resulting from molecular binding. More specifically, SPRi has been developed to examine affinity between biomoleculars, screen biomarkers and detect biopsy specimens.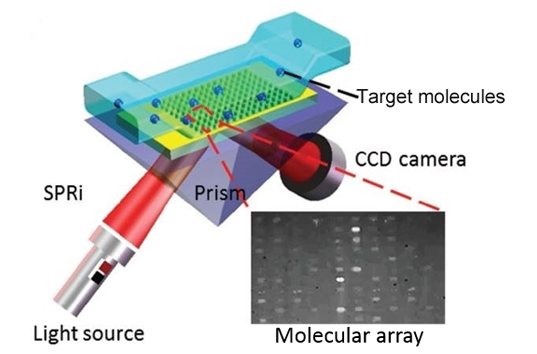 Basic principles:
Surface Plasmon Resonance (SPR) is an optical detection process that occurs when a polarized light hits a prism covered by a thin planar metal (typically gold or silver) layer. At certain angles of incidence, a portion of the light energy couples through the gold coating and creates a surface plasmon wave at the sample and gold surface interface. The angle of incident light required to sustain the surface plasmon wave is very sensitive to changes in refractive index at the surface (due to mass change), and it is these changes that are used to monitor the association and dissociation of biomolecules.
Applications:
Kinetic characterization by Surface Plasmon Resonance and other methods has already been an important step for drug researchers to select and characterize novel therapeutics as well as for basic life scientists to investigate specific biological binding events. When combined with appropriate surface chemistry, microfluidics and software, SPRi is unmatched in its range of applications including:
Affinity analysis
Kinetic analysis
Ligand-fishing
Epitope mapping
Protein / protein interaction
DNA/DNA interactions
Protein/carbohydrates
Protein / DNA interactions
RNA/RNA interactions
Antibody (protein) / bacteria interactions
Antibody / cell interactions
Peptide / protein interactions
Polymer / polymer interactions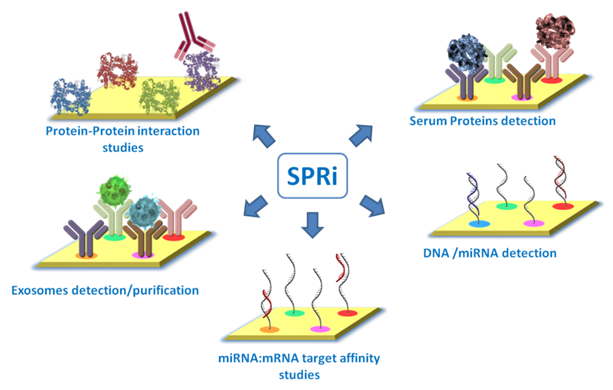 Application example: Protein-protein interaction assay
Service Content: The affinities of candidate drug Antibody-1 and candidate drug Antibody-2 for EGFR, FcRn, FcγRIIIA were determined.
Methods: Multi - concentration gradient fitting, multiple 3 - fold SD screening
Results: The reliable affinity constants were obtained for later biological experiments and clinical trials. The Application of SPRi technology significantly reduces the time and cost in this project.
In conclusion, SPRi is a well established leading technology for measuring binding association (ka) and dissociation rates (kd), affinities (KD), such as antibody/antigen, peptide/antibody, DNA/DNA, antibody/bacteria etc. Creative Peptides offers SPRi (Surface Plasmon Resonance imaging) services including Biochip design and printing, Bio-interactions analysis (binding affinity and kinetic processes detection), Summary and analysis of the results. As for our client, All they need to do is just tell us the essential details of the experiment, then our scientists will provide a comprehensive solution to match their scenario. At the end of the service they will get the result of the SPRi and the full experiment data.
If you foresee a possible future use of SPRi for your research, please do not hesitiate to contact us at .
If you have any peptide synthesis requirement in mind, please do not hesitate to contact us at
. We will endeavor to provide highly satisfying products and services.
Customer Support & Price Inquiry