Cosmetic Peptides
* Please kindly note that our products and services can only be used to support research purposes (Not for clinical use).
| | | | | |
| --- | --- | --- | --- | --- |
| Cat. # | Product Name | CAS No. | Price | Certificate of Analysis |
With the increasing longevity of the population worldwide, good appearance of aged skin is essential to a better quality of life for people in advanced age, with more independence and sometimes with intense professional and social activity. Scientific literature reports that some peptides can act as cellular messengers. These peptides are capable to incite both collagen production and to regulate the enzyme collagenase involved in collagen degradation.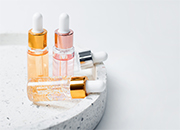 A variety of peptides are used in cosmetics. According to their mode of action, they have been classified into four main groups: signal peptides, carrier peptides, neurotransmitter peptides and enzyme inhibitor peptides.
Signal Peptides
Signal peptides show multiple actions, most especially stimulating production of collagen, elastin, fibronectin, proteoglycan, and glycosaminoglycans. For example, palmitoyl pentapeptide-4 commercially known as Matrixyl, the most popular signal peptide, was discovered in 1999. It consists of lysine, threonine, lysine and serine in the sequence and is demonstrated to stimulate the production of collagen I, III, and IV.
Carrier Peptides
Carrier peptides were named based on their role in delivering trace elements like copper and magnesium to the skin. For a wound healing application, a peptide known as GHK-Cu was commercialized into a line of skin care products to keep the appearance firmer and fuller.
Neurotransmitter Peptides
Neurotransmitter peptides function by inhibiting acetylcholine release through a variety of chemical interactions. Acetyl hexapeptide-3, with trade name Argireline, is a neurotransmitter peptide that functions topically to relax muscles by inhibiting vesicle docking through prevention of the SNARE complex formation. These neurotransmitter peptides have been shown to reduce certain types of wrinkles effectively.
Enzyme Inhibitor Peptides
Enzyme inhibitor peptides inhibit the efficiency of a key enzyme in some processes of metabolism. Many of the enzyme inhibitor peptides are extracted from botanical sources. Some peptides derived from rice proteins work well to retain more collagen, while certain soy-derived peptides can help prevent pigmentation.
All of these peptides have played an important role in cosmetics industry. Therefore the demand for high quality cosmetic peptides will significantly increase. Creative Peptides is able to provide a wide range of bioactive cosmetic peptides and also advisory services regarding cosmetic formulation. We will always endeavor to offer you the BEST QUALITY peptides. We can offer research- and GMP-grade cosmetic peptides according to your exact specifications. Please check our list of some of the most popular cosmetic peptides standing by. If you have a different cosmetic peptide synthesis requirement in mind, please let us know the peptide sequence, purity level required, and quantity needed. Our sales team will quickly generate a quote for you with price and delivery time.