Peptide Library and Array
* Please kindly note that our products and services can only be used to support research purposes (Not for clinical use).
The synthetic peptide library consists of a peptide fragment of a specific length which contains various possible sequences or most sequences of the short peptide of this length. The synthetic peptide library family includes a random synthetic peptide library, a synthetic peptide combinatorial library (SPCL), a multi-purpose peptide library (MUPL), a position-synthesized synthetic peptide combinatorial library (PS. SPCL), an oligonucleotide-encoded synthetic peptide library, and the like. In addition to its use in protein research and molecular recognition, peptide library technology is also used in immunology, such as epitope analysis, drug design, and vaccine development.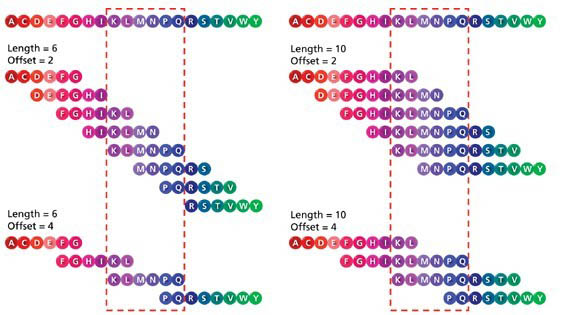 Creative Peptides provides a variety of peptide libraries for the separation of minimal length active peptide sequences, identification of critical amino acid residues, design of sequence-optimized analogs, etc. For protease and kinase studies, we also supply peptide microarrays. Meanwhile, we providing relevant analytical services to meet customer needs.
Overlapping Peptide Libraries
This peptide library consists of a peptide that is end-to-end with a specific Peptide Length and an Offset Number. These peptides cover the entire sequence of the intact native protein. This library is used to screen linear continuity epitope maps and T-cell epitope.
Truncation Peptide Libraries
This peptide library is used to determine the minimum amino acid length required for optimal epitope activity, established by systematically removing some of the amino acids at both ends of the original peptide.
In such peptide libraries, alanine systematically replaces each amino acid in a defined epitope, and this method is used to identify the necessity of its various sites for its activity.
Positional Scanning Library
A particular site in the polypeptide sequence is replaced by other different amino acids in the system to study the role of a particular position in replacing the amino acid. By determining the corresponding increase in activity, the optimal amino acid at these sites can be determined.
The construction of such peptide libraries is achieved by generating a complete rearrangement of the original polypeptide sequences, the amino acid composition of which is identical to the original peptide but with different sequences, to obtain all possible alternatives and to provide the most highly mutated polypeptide library.
Peptide array (or peptide chips) is a collection of peptides displayed on a solid surface, which is used for biomarker discovery, immunomonitoring, antibody epitope mapping, multiplexed epitope mapping or for detection and validation of protein interactions.
Reference
Lloyd-Williams, P., Albericio, F., &amp Giralt, E. (1997). Chemical approaches to the synthesis of peptides and proteins (Vol. 10). CRC Press.