Gold/Silver Nanoparticles Conjugation Service
* Please kindly note that our products and services can only be used to support research purposes (Not for clinical use).
Generally speaking, nanoparticles are particles between 1 and 100 nanometres (nm) in diameters with a surrounding interfacial layer contains 20-15000 atoms and are present in a scope between the quantum and newtonian scales. Due to the exceptional characteristic, nanoparticles (NPs) have received much attention in the last decade. Scientific research on nanoparticles is intense as they have many potential applications in medicine, physics, optics, and electronics. For example, NPs can be used to deliver a cargo, such as an anticancer drug, or a cohort of radionuclide atoms to a targeted region of the body, such as a tumor. Recently, Creative Peptides are proudly announces to offer high-quality peptide-nanoparticle conjugation service for our clients.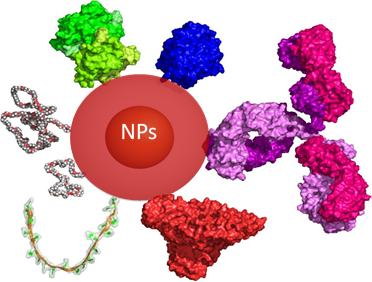 Our services
Creative Peptides provides custom conjugation of various peptides, full length antibody, enzymes and other proteins to our gold nanoparticles (AuNPs) or silver nanoparticles (AgNPs) with a wide range of available size (up to 100nm in diameter).
For a list of our available services
Sourcing peptide or protein of interests if needed (Peptide/protein can be purified or provided if required. Additional costs apply).
Conjugation of targeted protein to gold/silver NPs surface with indicated diameters by customers.
Choosing conjugation method depending on the peptide/nanoparticle characteristic.
Purification of conjugates.
Functionality testing (upon request).
Creative Peptides's NPs service will follow a strict quality assay system; each batch of NPs will be characterized with respect to mean diameter, zeta potential and stability. Conjugation can either be done through direct attachment to the NPs surface (standard), or covalently through a linker, depending on customers' specific requirement. With years' experience on peptides-nanoparticle conjugation field, Creative Peptides delivers the best performing conjugates for your specific needs with a quick turnaround time.
References
Selva Sharma, A., &amp Ilanchelian, M. (2015). Comprehensive multispectroscopic analysis on the interaction and corona formation of human serum albumin with gold/silver alloy nanoparticles. The Journal of Physical Chemistry B, 119(30), 9461-9476.
Lee, K. S., &amp El-Sayed, M. A. (2006). Gold and silver nanoparticles in sensing and imaging: sensitivity of plasmon response to size, shape, and metal composition. The Journal of Physical Chemistry B, 110(39), 19220-19225.