Peptide-Antibody Conjugation
* Please kindly note that our products and services can only be used to support research purposes (Not for clinical use).
Creative Peptides can design and synthesize peptide-antibody conjugates according to customer needs, providing you with effective tools for scientific research and new drug discovery.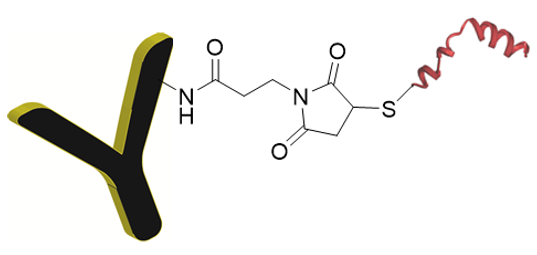 Introduction of peptide-antibody conjugates
Peptide-antibody conjugates a protein conjugate, or bioactive analogue, or fragment containing an antibody portion and a peptide in which the antibody is conjugated to the peptide at one or more of the following locations on the peptide: N-terminal amino acid residue; C-terminal amino acid residue; or lysine residue between the N-terminal and C-terminal. Peptide-Antibody Conjugation technology facilitates the delivery of conjugate aprotinin-derived peptides across the blood-brain barrier, and selectively binds to the target antibody portion within the CNS. The antibodies in Peptide-Antibody Conjugation use classic antibodies that target specific cancer cell targets (such as cetuximab that targets EGFR), and are designed so that the antibody and the peptide are connected by a peptide substrate recognized by a protease. Peptide-Antibody Conjugation can realize the release of peptides in tumor lesions expressing a specific mechanism metalloproteinase (MMP), which can further improve the accuracy of peptide delivery based on the guidance of antibodies.
Application of peptide-antibody conjugates
Recently, a new nanomedicine based on the co-assembly of drug-peptide amphiphilic compounds and antibodies has been developed. This co-assembly not only achieved a higher drug loading (> 30 wt%), but also greatly improved the stability of the antibody. Therefore, Peptide-Antibody Conjugation can be used to improve drug stability. Creative Peptides uses its proprietary technology to discover and develop a new brain penetrant "peptide-antibody conjugate", which can reach therapeutic concentrations in the brain. This technology will enable leaders in the field of biopharmaceutical development to utilize the potential of monoclonal antibodies in the central nervous system. Creative Peptides's Peptide-Antibody Conjugation can penetrate the blood-brain barrier through receptor-mediated transcytosis, and maintain their affinity for target receptors and in vivo function. In addition, the researchers also used specific antigen modification mediated by antibody-polypeptide conjugates to improve the effectiveness of cell therapy and develop better cancer treatments.
Our Services
Peptide coupled monoclonal antibody related to tumor therapy
Different types of peptide-antibody conjugates
Development of new Peptide-Antibody Conjugation
Customized Peptide-Antibody Conjugation
Our Advantages
Fully traceable documentation system.
Possessing the research and development technology of long-acting peptide drug formulations
Perfect professional team for innovative drug development
Innovative products
High quality service
Product quality is stable and reliable
Low sales price
Reference
Millar, David G., et al. (2020). Antibody-mediated delivery of viral epitopes to tumors harnesses CMV-specific T cells for cancer therapy. Nature Biotechnology, 1-6.
If you have any peptide synthesis requirement in mind, please do not hesitate to contact us at . We will endeavor to provide highly satisfying products and services.
Customer Support & Price Inquiry