MHC-Peptide Tetramer
* Please kindly note that our products and services can only be used to support research purposes (Not for clinical use).
MHC-peptide tetramers are complexes formed by the binding of four copies of a specific peptide and the major histocompatibility complex (MHC) protein. They are widely used in immunology research to study immune responses, particularly those involving T cells. Creative Peptides has launched a series of MHC-peptide Tetramers which are ready-to-use reagents conjugated to a fluorochrome group such as Brilliant Violet 421(BV421), phycoerythrin (PE), or allophycocyanin (APC).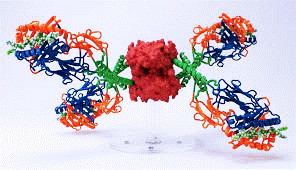 History of MHC-peptide tetramers
In 1996, the development of reagents consisting of soluble MHC class I–peptide complexes, which was applied to detect CD8+ cells by flow cytometry, had effectively promoted a revolution of antigen-specific T cells. Traditionally, TCR (T cell receptor) has a low avidity and fast off-rate for MHC-peptides complexes, recombinant soluble monomeric MHC-peptide complexes have not been used to detect antigen-specific T cells. Recently, Stanford University School of Medicine has presented MHC-peptides tetrameric complexes (MHC tetramers) in the detection of antigen-specific T cells, thus provided an efficient method to visualize, quantify, phenotype and sort antigen-specific cytotoxic T lymphocytes (CTLs) directly from a wide range of biological samples and have now become standard reagents in laboratories around the world.
Structure of MHC-peptide tetramers
MHC-peptide tetramers consist of four copies of an MHC protein, usually MHC class I or II, bound to four copies of a specific peptide antigen. The MHC protein binds to the peptide antigen, forming a complex that is stable enough to be detected by flow cytometry. The four copies of the complex then bind to a fluorescently labeled streptavidin molecule, which allows the complex to be visualized and quantified.
Applications of MHC-peptide tetramers
MHC-peptide tetramers are unequivocally formidable tools when it comes to investigating immune responses, due to their remarkable ability to detect and quantify T cells that are idiosyncratically tailored to recognize a particular peptide antigen. As such, they are uniquely equipped to illuminate the intricacies of the immune response vis-à-vis a specific pathogen or to facilitate the monitoring of the immune response elicited by a vaccine. Additionally, MHC-peptide tetramers represent a promising avenue of research for autoimmune diseases, as they can be deployed with discernible success to detect and quantify autoreactive T cells.
Our MHC-peptide tetramers Services
Creative Peptides develops, manufactures and markets a wide range of MHC-peptide Tetramers. Our MHC-Peptide Tetramer services provide customized MHC/peptide tetramers for identification of antigen specific T lymphocytes by flow cytometry. With years of experience in one-stop services including manufactures of MHC-peptide Tetramer, custom synthesis of related peptides, and even MHC-Tetramer assay services, Creative Peptides must be your exclusive choice in solving scientific and clinical challenges by providing a consultative approach, superior technical and customer support. If you are interested in any MHC Tetramer products, please feel free to contact us. We will be more than happy to serve you!