MHC-Peptide Tetramer
* Please kindly note that our products and services can only be used to support research purposes (Not for clinical use).
Creative Peptides has launched a series of MHC-peptide Tetramers which are ready-to-use reagents conjugated to a fluorochrome group such as Brilliant Violet 421(BV421), phycoerythrin (PE), or allophycocyanin (APC).
In 1996, the development of reagents consisting of soluble MHC class I–peptide complexes, which was applied to detect CD8+ cells by flow cytometry, had effectively promoted a revolution of antigen-specific T cells. Traditionally, TCR (T cell receptor) has a low avidity and fast off-rate for MHC-peptides complexes, recombinant soluble monomeric MHC-peptide complexes have not been used to detect antigen-specific T cells. Recently, Stanford University School of Medicine has presented MHC-peptides tetrameric complexes (MHC tetramers) in the detection of antigen-specific T cells, thus provided an efficient method to visualize, quantify, phenotype and sort antigen-specific cytotoxic T lymphocytes (CTLs) directly from a wide range of biological samples and have now become standard reagents in laboratories around the world.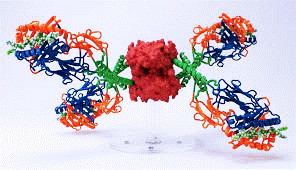 MHC tetramer is a complex of four MHC molecules, which are associated with a specific peptides and bounded to a fluorochrome. The development of the fluorescently labeled tetrameric MHC–peptide complex has enabled the direct visualization, quantification and phenotypic characterization of antigen-specific T cells by using flow cytometry, and has transformed scientists understanding of cellular immune responses.
Creative Peptides develops, manufactures and markets a wide range of MHC-peptide Tetramers. Our MHC-Peptide Tetramer services provide customized MHC/peptide tetramers for identification of antigen specific T lymphocytes by flow cytometry. With years of experience in one-stop services including manufactures of MHC-peptide Tetramer, custom synthesis of related peptides, and even MHC-Tetramer assay services, Creative Peptides must be your exclusive choice in solving scientific and clinical challenges by providing a consultative approach, superior technical and customer support. If you are interested in any MHC Tetramer products, please feel free to contact us. We will be more than happy to serve you!