Peptide-oligonucleotide Conjugation
* Please kindly note that our products and services can only be used to support research purposes (Not for clinical use).
Introduction
Oligonucleotides and their analogs can be used as inhibitors of gene expression for antisense mechanism research of target RNAi. They can form triple-stranded structure with double-stranded DNA and can also act as aptamers of proteins. Thus oligonucleotides and its analogues are important drug molecules.
Protein is a biologically functional substance, but its molecular structure is complex, and many uncertain factors are set for its application. The peptide structure is simple, natural extraction or artificial synthesis is relatively easy, and the peptide has better membrane permeability than oligonucleotide. Conjugated oligonucleotides and peptides by covalent attachment can enhance the function of the oligonucleotide. Studies have shown that peptide and oligonucleotide conjugates have stronger target cell penetration and higher cell absorption efficiency than unmodified oligonucleotides.
Preparation of peptide and oligonucleotide conjugates
There are several different strategies for synthesizing peptide and oligonucleotide conjugates, including solid phase synthesis, liquid phase synthesis, and biosynthesis. When the peptide is conjugated to the oligonucleotide, the peptide is capable of binding to the base of the oligonucleotide, the 3 or 5 end of the ribose or the phosphate backbone. Likewise, the point of attachment of the oligonucleotide and peptide can be the C-terminus, N-terminus or amino acid side chain of the peptide.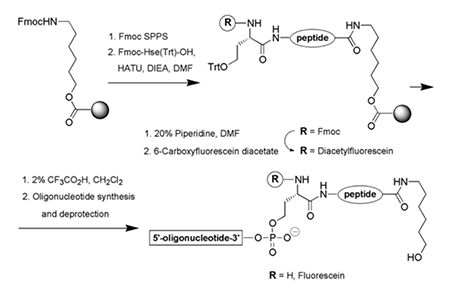 Fig.1 Total stepwise synthesis of oligonucleotide-(3-N)-peptide conjugates on a homoserine functionalized support (Stetsenko et al. 2005)
Our Services
As the world's leading peptide synthesizer and supplier, Creative Peptides has experienced experts and leading-edge technology to provide high quality peptide-oligonucleotide conjugates. We offer different synthesis ratios, which can be modified, processed and purified according to customers' requirements to achieve the most precise requirements.
The peptide-oligonucleotide conjugates we provide can be used:
Intracellular delivery
Increase the stability of the oligonucleotide
As an aptamer
As a nanomaterial
We have strict control over the products in the production process to ensure strict quality control standards. The final product is analyzed by different methods and finally delivered to customers with high quality products.
References
Singh, Y., Murat, P., &amp Defrancq, E. (2010). Recent developments in oligonucleotide conjugation. Chemical Society Reviews, 39(6), 2054-2070.
Graham, D., &amp Enright, A. (2006). Cycloadditions as a method for oligonucleotide conjugation. Current Organic Synthesis, 3(1), 9-17.
Tung, C. H., Rudolph, M. J., &amp Stein, S. (1991). Preparation of oligonucleotide-peptide conjugates. Bioconjugate chemistry, 2(6), 464-465.
Stetsenko, D. A., &amp Gait, M. J. (2005). Chemical methods for peptide-oligonucleotide conjugate synthesis. In Oligonucleotide Synthesis (pp. 205-224). Humana Press.