Peptide C-Terminal Modification
* Please kindly note that our products and services can only be used to support research purposes (Not for clinical use).
Creative Peptides provides multiple types of C-terminal modification services to meet your needs in different research fields. These peptide modifications can be used to create synthetic peptide with the exact conformation of characteristics needed for specific applications.
The development and importance of C-terminal modification of peptides
The post-translation modification of eukaryotic proteins by the addition of isoprenyl lipids at their C-termini was first observed in the 1970s and 1980s. Since then, more than a hundred proteins have been shown to be modified by C15 farnesyl or C20 geranylgeranyl groups, including most members of the Ras, Rho, and Rab families of G proteins. The C-terminal of the peptide is synthesized as an amide to neutralize the negative charge created by the C-terminal COOH. This modification is added to prevent enzyme degradation, to mimic native proteins, and in some cases to remove hydrogen bonding at the C-terminal of the peptides which may interfere with the assays.
Available C-terminal modifications
| | | |
| --- | --- | --- |
| Acryl | Ester (OEt) | NHEt |
| AFC | Ester (OMe) | NHisopen |
| AMC (7-Amino-4-Methylcoumarin) | Ester (OtBu) | NHMe |
| Amidation | Ester (OTBzl) | OBzl |
| BSA (-COOH of C terminal) | FMK (Fuoro-methylketones) | OSU |
| Bzl | KLH (-COOH of C terminal) | OVA (-COOH of C terminal) |
| CMK (Chloro-methylketones) | MAPS Asymmetric 2 branches | p-Nitroanilide (pNA) |
| C-terminaleaters | MAPS Asymmetric 4 branches | tBu |
| Cysteamide (Mercaptoacetamide) | MAPS Asymmetric 8 branches | TBzl |
| Ethylamine | Me | Thioester |
AMC (7-Amino-4-Methylcoumarin)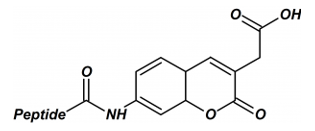 Enzyme substrates based on the AMC (7-amino-4-methyl coumarin) fluorophore are very popular tools for studying protease activity and specificity. In such substrates, AMC is usually linked to the peptide by forming an amide bond between the coumarin amine and the carboxyl group of the C-terminal amino acid residue.
The proteolysis of the amide bond releases free AMC, resulting in a greatly increased fluorescence. The excitation/emission wavelengths are about 342 nm/441 nm.
Terminal amidation (C-terminus) will remove the positive charge and help peptides imitate its natural structure. In addition, this modification makes the resulting peptide more stable towards enzymatic degradation resulting from exopeptidases.

Biotin has a very strong affinity for streptavidin, so the biotinylation of peptides is an effective method of specifically binding peptides to streptavidin-coated surfaces.
Peptide biotinylation can be performed at the N-terminus or C-terminus. At the C-terminus, the first-order epsilon amino group on the lysine inserted at the C-terminus is biotinylated to remove the positive charge of lysine.

After peptide synthesis, the peptide can be coupled to carrier proteins,OVA, KLH or BSA. The carrier protein can be conjugated to the N- or C-terminal of the peptide through the inserted N- or C-terminal cysteine. OVA, KLH or BSA-coupled peptides are mainly used for immunization and can significantly increase the cell-mediated immune response.
The application of multiple antigen peptides (MAPS) is an effective method for producing high-titer anti-peptide antibodies and synthetic peptide vaccines. The system uses the α- and ε-amino groups of lysine to form a backbone that can link multiple peptide chains. Depending on the number of lysine layers, different numbers of peptide branches can be synthesized. This eliminates the need to conjugate the antigen to the protein carrier.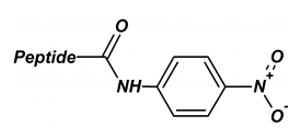 The peptide p-nitroaniline is a useful compound for studying protease activity. In such substrates, yellow free p-nitroaniline is released through the proteolysis.
Creative Peptides specialized in the custom synthesis of C-terminal modification peptides, providing a confidential and efficient service at competitive prices. Every step of peptide synthesis is subject to Creative Peptides' stringent quality control.
Typical delivery specifications include
HPLC chromatogram
Mass spec analysis
Synthesis report
Certificate of analyses
References
Amaya, M., Baranova, A., &amp van Hoek, M. L. Protein prenylation: A new mode of host–pathogen interaction. Biochemical and biophysical research communications. 2011; 416(1-2):1-6.
Kim, K. H., &amp Seong, B. L. Peptide amidation: Production of peptide hormones in vivo and in vitro. Biotechnology and Bioprocess Engineering. 2001; 6(4):244-251.