Protein-Protein Interactions
* Please kindly note that our products and services can only be used to support research purposes (Not for clinical use).
Protein-protein interactions (PPIs) are highly specific physical contacts established between two or more protein molecules,which are the result of biochemical events caused by electrostatic forces. It is critical to understand how they interact at residual levels during the early stage and later stage of drug development. Surface Plasmon Resonance imaging (SPRi), namely Surface Plasmon Resonance Microscopy (SPRM), is a high-sensitive, real-time, label-free, and high-throughput technique which is used to study biomolecular interactions based on detecting the refractive index changes resulting from molecular binding. Moreover, protein-protein interactions play an important role in transcription and other biological processes.
Application example: Protein-protein interaction assay
Service Content: The affinities of candidate drug Antibody-1 and candidate drug Antibody-2 for EGFR, FcRn, FcγRIIIA were determined.
Methods: Multi-concentration gradient fitting, multiple 3-fold SD screening
Results: The reliable affinity constants were obtained for later biological experiments and clinical trials. The Application of SPRi technology significantly reduces the time and cost in protein-protein interaction assay.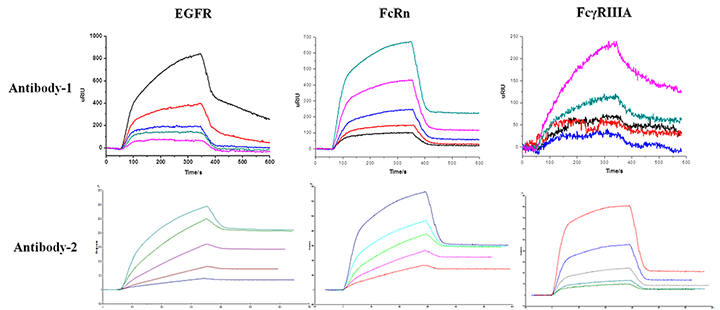 In conclusion, SPRi is a well-established leading technology for measuring binding association (ka) and dissociation rates (kd), affinities (KD) for protein-protein interactions.
Our Services
Creative Peptides offers SPRi (Surface Plasmon Resonance imaging) services including Biochip design and printing, Bio-interactions analysis (binding affinity and kinetic processes detection), Summary and analysis of the results. The SPRi technology also shows great promise to study even more complex protein-protein interactions. We can follow the customer's request for high-precision analysis of protein-protein interactions while ensuring reasonable price and accurate analytical data.
Our strengths
Advanced equipment and technique
Experienced scientific team
Highly reliable and reproducible result
Competitive price
Data analysis, detailed report with results and discussion
References
1. Pawson, T., &amp Nash, P. (2000). Protein–protein interactions define specificity in signal transduction. Genes &amp development, 14(9), 1027-1047.
2. Scarano, S., Mascini, M., Turner, A. P., &amp Minunni, M. (2010). Surface plasmon resonance imaging for affinity-based biosensors. Biosensors and bioelectronics, 25(5), 957-966.
3. Schasfoort, R. B. (Ed.). (2017). Handbook of surface plasmon resonance. Royal Society of Chemistry.
If you have any peptide synthesis requirement in mind, please do not hesitate to contact us at
. We will endeavor to provide highly satisfying products and services.
Related Peptide Service
Customer Support & Price Inquiry