Long Peptides Synthesis
* Please kindly note that our products and services can only be used to support research purposes (Not for clinical use).
Many studies require the use of peptides with more than 50 to 150 amino acids. Researches have also shown that synthetic long peptide-binding adjuvants have been widely used in cancer therapeutic vaccine research. In the traditional sense, more than 50 amino acid sequences are referred to as proteins, while short sequences are polypeptides. However, it is possible to synthesize longer amino acid sequences today, and advances in technology have driven the upper limit of the amino acid sequence in the peptide chain. This makes the peptide more widely used in application, making up for some shortcomings of protein.
Synthesis challenges and strategies of long peptides
There are some challenges to the synthesis of long peptides, such as a large cumulative effect of yield, which can result in slow or incomplete coupling and/or reverse protection during the synthesis, as well as low solubility in the assembly of the protected peptide.
For the synthesis of long peptides, there are generally two ways of gradual growth and fragment condensation. The former starts with the starting amino acid (or peptide) and grows one amino acid per connection. The latter is obtained by condensation of a C-terminal protective peptide and an N-terminal protective peptide, and the new peptide chain with the sum of the two.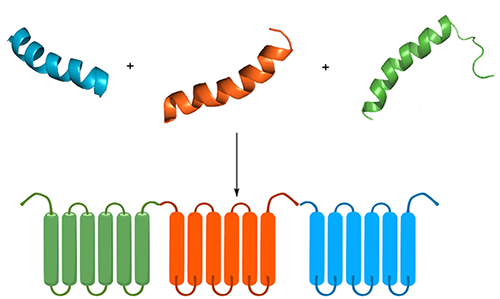 As one of the world's largest producers of synthetic peptides, Creative Peptides has developed a variety of proprietary technologies, peptide manufacturing facilities, and expertise that allow us to provide large volume, high quality and complex custom peptides from research grade to GMP production, and giving you the flexibility you need for custom peptides. Creative Peptides can provide long-chain peptides with certain amino acid sequences according to customer's requirements, ensuring high purity and high success rate synthesis, providing high quality long-chain peptide products for your research or production.
Available services
Synthesis of long-chain peptides by peptide synthesis synthesizers and microwave reactors
Routine analysis after synthesis
MALDI-TOF MASS detection and identification
Report for qualify evaluation
Every step of peptide synthesis is subject to Creative Peptides' stringent quality control. Typical delivery specifications include:

HPLC chromatogram
Mass spec analysis
Synthesis report
Certificate of Analyses
Reference
Coppola, M., van den Eeden, S. J., Wilson, L., Franken, K. L., Ottenhoff, T. H., &amp Geluk, A. (2015). Synthetic long peptide derived from M. tuberculosis latency antigen Rv1733c protects against tuberculosis. Clinical and Vaccine Immunology, CVI-00271.