Unusual Amino Acids Modification
* Please be kindly noted that our services can only be used for research to organizations or companies and not intended for individuals.
At present, the number of endogenous and exogenous bioactive peptides under study is rapidly increasing, and most of these peptides are easily to be degraded by enzymes, which will greatly reduce the therapeutic effect. These peptides can usually be converted to more resistant molecules by making the necessary modifications.
Unusual amino acids are not naturally encoded amino acids. They can be naturally produced by post-translation of plants or bacteria, or chemically synthesized. Peptides modified by these amino acids tend to exhibit unique biological activities and are often included in therapeutic peptide ligands to provide pharmacological activity and potency of the peptides.
Creative Peptides provides the unusual amino acids modified peptides are:
• Good receptor binding ability
• Improved selectivity
• Modify activity (agonists and antagonists)
• Increase in vivo half-life
• Enhance transport across cell membranes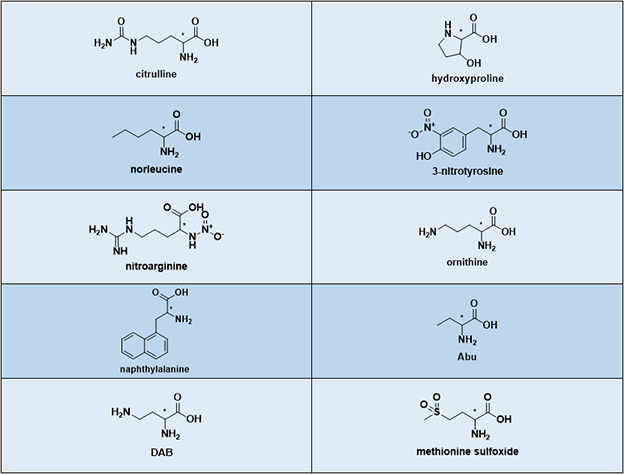 Creative Peptides provides a complete range of unusual amino acid peptide modification services, and we also can provide customers with special amino acid synthesis to meet your specific needs for modification. Every step of peptide synthesis is subject to Creative Peptides' stringent quality control. Typical delivery specifications include:
• HPLC chromatogram
• Mass spec analysis
• Synthesis report
• Certificate of Analyses
Reference:
1. Cardillo, G., Gentilucci, L., &amp Tolomelli, A. (2006). Unusual amino acids: synthesis and introduction into naturally occurring peptides and biologically active analogues. Mini reviews in medicinal chemistry, 6(3), 293-304.
If you have any peptide synthesis requirement in mind, please do not hesitate to contact us at
. We will endeavor to provide highly satisfying products and services.
Customer Support & Price Inquiry