Disulfide Bridges Determination
* Please be kindly noted that our services can only be used for research to organizations or companies and not intended for individuals.
Creative Peptides has unique expertise in determining the disulfide bridges of peptide, which can analyze the structure and function of peptide in multiple samples from different sources.
Why analyze disulfide bridges?
The physiological and pathological relevance of disulfide bridges to diseases and protein functions has been increasingly recognized, such as tumor immunity, hemostasis, cell death, and neurodegenerative diseases, etc.
Therefore, the analysis of disulfide bridges in peptides/proteins is of great significance for revealing their structure and biological functions, as well as for peptide characterization and peptide drug development in the production process of biopharmaceuticals.
Overview of our disulfide bridges determination service
Quantitative identification of disulfide bridges and free sulfhydryl groups
The position of the disulfide bridges in non-reduced protein and reduced protein
Combine with other characterization services (if needed)
Aggregate data in detailed reports
We use a peptide map-based strategy to identify the number and location of disulfide bridges and free thiols. Analysis usually includes digestion with appropriate enzymes and/or chemicals, and inspection of the resulting compounds using liquid chromatography-mass spectrometry (LC-MS) and/or LC/ESI-MS/MS to separate and identify potential disulfide bridged peptides.
According to the availability and quantity of protein samples and customer requirements, we provide two different types of disulfide bridges determination services.
| | | |
| --- | --- | --- |
| Service | Method | Application |
| Analytical Disulfide Bridges Determination | The analysis is carried by an LC-MS system with both a UV-Visible detector and an MS detector. The quantitation of free or disulfide-linked peptides is based on HPLC chromatography. | Used to determine the number, the position and ratio of disulfide bridges linkages in a peptide. |
| Micro Disulfide Bridges Determination | The analysis is carried out on a Nano LC-ESI-MS/MS system without a UV-visible detector. | Often used for research stage peptide samples that the disulfide linkage is unknown |
The process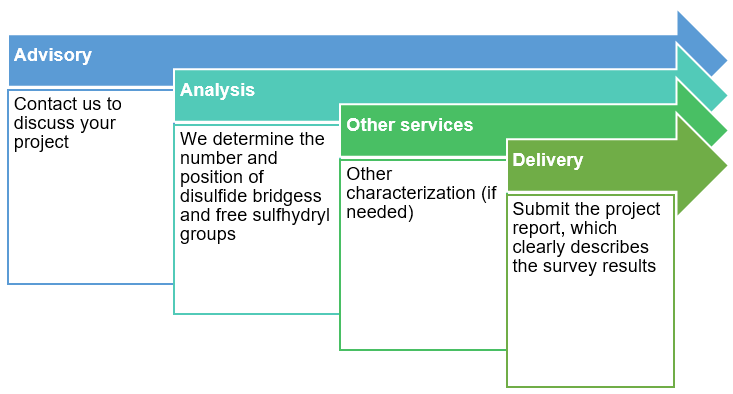 The technical reports we provide include experimental procedures, liquid chromatography, and mass spectrometer parameters, MS raw data files, peptide identification and strength, disulfide bridges maps, and bioinformatics analysis.
Sample requirements
Identification by mass spectrometry requires enough pure samples to obtain good data. Therefore, it is important to prepare samples in a clean laboratory to avoid contamination.
Samples can be submitted in liquid or lyophilized form.
Note
> The purity of chromatographically separated peptides should be> 90%.
> Avoid using detergents and keep the buffer concentration to a minimum.
> Put the sample into a microcentrifuge tube to freeze-dry or accelerate to a solid sample to ensure stability during transportation.
> Alternatively, freeze or refrigerate it to +4 o C for cold transport liquid samples.
Contact us today to find out more about our disulfide bridge analysis.
References:
1. Christis C, Lubsen NH, Braakman I. Protein folding includes oligomerization – examples from the endoplasmic reticulum and cytosol. FEBS J. 2008; 275:4700-4727.
2. Riemer J, Bulleid N, Herrmann JM. Disulfide formation in the ER and mitochondria: two solutions to a common process. Science. 2009; 324:1284-1287.
If you have any peptide synthesis requirement in mind, please do not hesitate to contact us at
. We will endeavor to provide highly satisfying products and services.
Customer Support & Price Inquiry