Linkers and Spacers
* Please be kindly noted that our services can only be used for research to organizations or companies and not intended for individuals.
Linkers, we can also call spacers, which can be used to link two molecules of interest to us. They are always flexible or stretched molecule. Depending on the field of design and application, we can construct plugins in peptides and different molecules to construct molecular structures that can be used for research. Generally, we can insert a linker between the peptide and the following molecules:
Peptide and biotin
Peptide and carrier proteins (KLH, BSA, etc.)
Peptide and fluorescent dyes
Peptide and tags
Different lengths of linkers can bind to any site on the peptide, usually via an amide bond. One common hydrophobic spacer is aminocaproic acid (Ahx), a common hydrophilic spacer is polyethylene glycol (PEG), and there are many other options. In recent years, PEGylation has been widely used method for improving the stability and bioavailability of peptides in vivo. If you need, please visit Peptide PEGylation.
Creative Peptides can provide linkers as shown below, including but not limited to the following examples: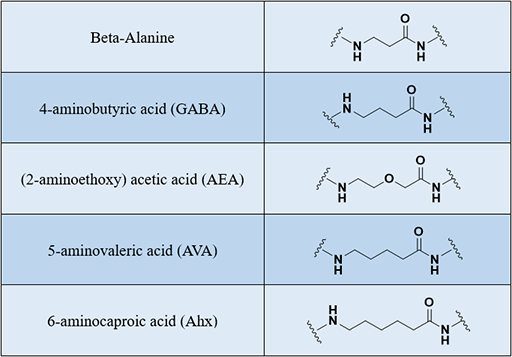 Inserting a linker between peptide and other molecules can help:
Peptide design
Studying the relationship between structure and function
Providing important information for the mechanism of peptide biosynthesis
Stablishing model enzymes and synthesize new peptide drugs
References
1. Newton, D. L., Xue, Y., Olson, K. A., Fett, J. W., &amp Rybak, S. M. (1996). Angiogenin single-chain immunofusions: influence of peptide linkers and spacers between fusion protein domains. Biochemistry, 35(2), 545-553.
2. Chen, H., Chen, Z., Wu, B., Ullah, J., Zhang, T., Jia, J., ... &amp Tan, T. (2017). Influences of various peptide linkers on the Thermotoga maritima MSB8 nitrilase displayed on the spore surface of Bacillus subtilis. Journal of molecular microbiology and biotechnology, 27(1), 64-71.
3. Craig, J. A., Rexeisen, E. L., Mardilovich, A., Shroff, K., &amp Kokkoli, E. (2008). Effect of linker and spacer on the design of a fibronectin-mimetic peptide evaluated via cell studies and AFM adhesion forces. Langmuir, 24(18), 10282-10292.
If you have any peptide synthesis requirement in mind, please do not hesitate to contact us at
. We will endeavor to provide highly satisfying products and services.
Related Peptide Service
Customer Support & Price Inquiry