Peptide Epitope Substitution Scans
* Please be kindly noted that our services can only be used for research to organizations or companies and not intended for individuals.
The epitope substitution scan covers the stepwise substitution of all amino acid positions of the identified epitope with all 20 amino acids. In some cases, an epitope substitution scan can include selected unnatural amino acids, such as D-amino acids or citrulline. There are divided ito two types depending on the number of substituted amino acids used:
Epitope single substitution scans
Epitope single substitution scanning encompasses a stepwise substitution of all amino acid positions of a given epitope or peptide with all 20 major amino acids and optionally other unnatural amino acids. The microarray we used included all amino acids, and finally, we can get a detailed amino acid map with conserved and variable amino acids.
Epitope double substitution scans
In contrast to the stepwise exchange in epitope single-substitution scans, epitope double-substitution scanning enables high-throughput screening of epitope variants and mimotopes by exchanging two amino acid positions at a time. The epitope double substitution scan can output a detailed amino acid map. Therefore, epitope double-substitution scanning is a unique solution that can be used to develop and optimize peptide vaccines, peptide mimotopes or protein target binders.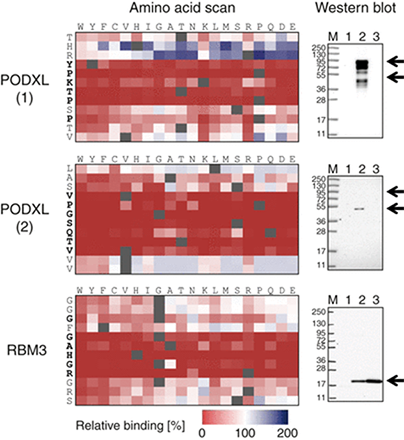 Fig.1 Full amino acid substitution scan and Western blot analysis of antibodies toward the human proteins PODXL and RBM3 (Forsstr?m, et al. 2014)
Samples that we can detect include: monoclonal or polyclonal antibodies, hybridoma supernatants, purified antibody components, serum, plasma, and the like.
Application of Epitope Substitution Scans in Epitope Mapping of Peptide
Detailed cross-reaction analysis
Development of peptide vaccines
Identifying necessary and variable amino acid positions within the epitope
Targeting protein molecules to reduce the immunogenicity of protein drugs
Immunological intervention
Our Services
Creative Peptides has developed a reliable epitope substitution scans in epitope mapping of peptide method. We can synthesize targeted peptide arrays according to customer requirements. We rigorously screen samples, perform precise analysis on results, and generate detailed reports. If there is a demand, please do not hesitate to contact us immediately, we will provide the best quality service.
References:
1. Schutkowski, M., Reineke, U., &amp Reimer, U. (2011). Peptide arrays for the analysis of antibody epitope recognition patterns. Mini-Reviews in Organic Chemistry, 8(2).
2. Forsstr?m, B., Axn?s, B. B., Stengele, K. P., Bühler, J., Albert, T. J., &amp Richmond, T. A., et al. (2014). Proteome-wide epitope mapping of antibodies using ultra-dense peptide arrays. Molecular &amp Cellular Proteomics, 13(6), 1585-1597.
3. Davidson, E., &amp Doranz, B. J. (2014). A high-throughput shotgun mutagenesis approach to mapping b-cell antibody epitopes. Immunology,143(1), 13-20.
If you have any peptide synthesis requirement in mind, please do not hesitate to contact us at
. We will endeavor to provide highly satisfying products and services.
Related Peptide Service
Customer Support & Price Inquiry