* Please kindly note that our products and services can only be used to support research purposes (Not for clinical use).
PNAs, or peptide nucleic acids, is an analogue of oligonucleotide in which sugar-phosphate backbone has been replaced by a polyamide chain. Due to the unique backbone of PNA, it can be used in same applications as conventional DNA/RNA. Comparing with DNA, PNAs are neutral in charge, chemically more stable and resistant to DNases and proteases, as well as remaining high sequence specificity, binding activity and lower salt sensitivity. PNAs have been widely used in molecular diagnostics and therapeutics, such as fluorescent in situ hybridization (Fish), single nucleotide polymorphisms (SNPs) detection and antisense therapy.
Creative Peptides can provide a number of PNA related products, such as Gamma PNA or Fmoc/Boc PNA Monomers etc.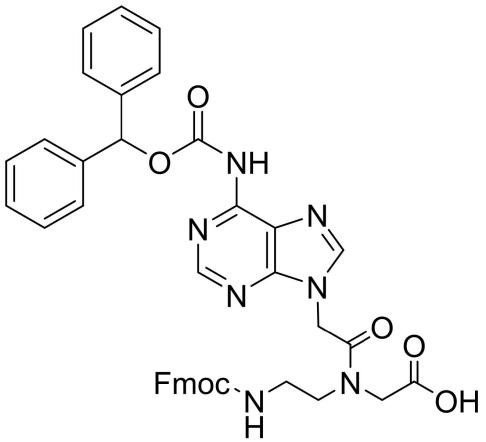 Fmoc-PNA-A(Bhoc)-OH
CAS: 186046-82-2
Chemical Formula: C40H35N7O7
Molecular Weight: 725.76
Fmoc-PNA-A(Boc)-OH
CAS: 511534-99-9
Chemical Formula: C31H33N7O7
Molecular Weight: 615.65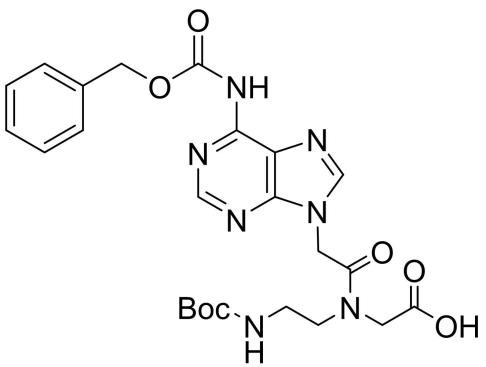 Boc-PNA-A(Z)-OH
CAS: 149376-69-2
Chemical Formula: C24H29N7O7
Molecular Weight: 527.54'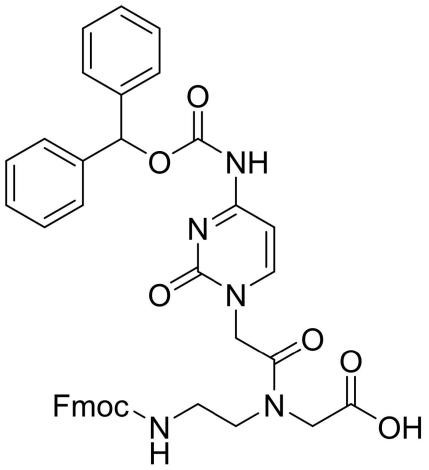 Fmoc-PNA-C(Bhoc)-OH
CAS: 186046-81-1
Chemical Formula: C39H35N5O8
Molecular Weight: 701.74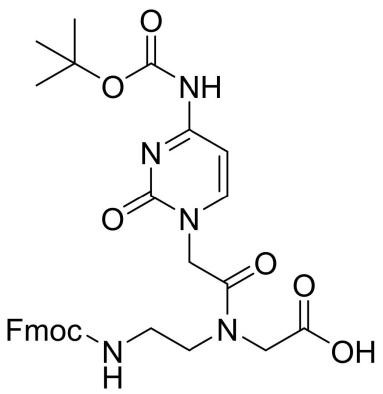 Fmoc-PNA-C(Boc)-OH
CAS: 172405-61-7
Chemical Formula: C30H33N5O8
Molecular Weight: 591.62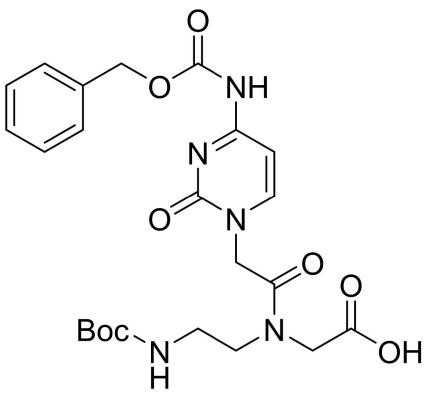 Boc-PNA-C(Z)-OH
CAS: 144564-94-3
Chemical Formula: C23H29N5O8
Molecular Weight: 503.51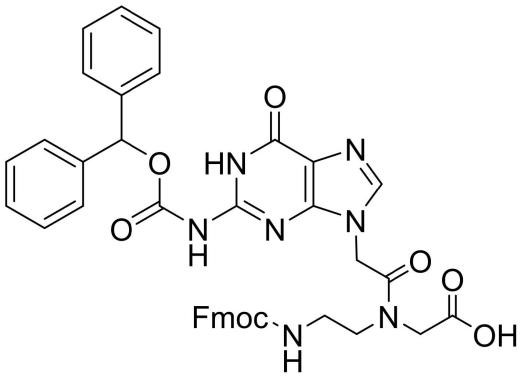 Fmoc-PNA-G(Bhoc)-OH
CAS: 186046-83-3
Chemical Formula: C40H35N7O8
Molecular Weight: 741.76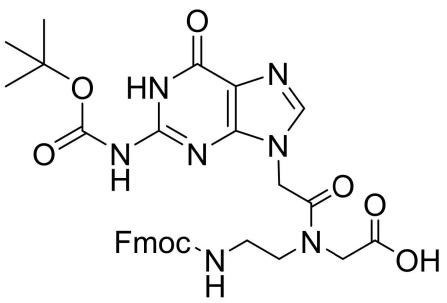 Fmoc-PNA-G(Boc)-OH
CAS: 1052677-90-3
Chemical Formula: C31H33N7O8
Molecular Weight: 631.65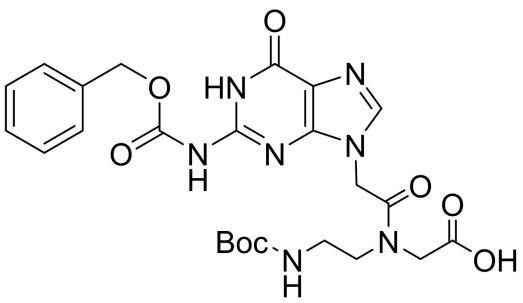 Boc-PNA-G(Z)-OH
CAS: 169287-77-8
Chemical Formula: C24H29N7O8
Molecular Weight: 543.54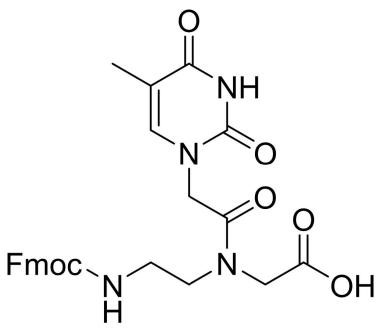 Fmoc-PNA-T-OH
CAS: 169396-92-3
Chemical Formula: C26H26N4O7
Molecular Weight: 506.52
Boc-PNA-T-OH
CAS: 139166-80-6
Chemical Formula: C16H24N4O7
Molecular Weight: 384.39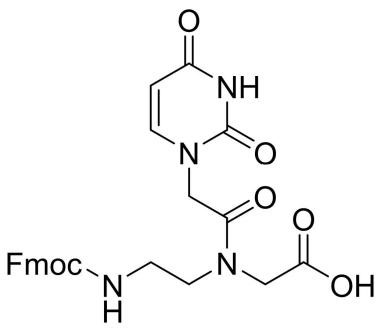 Fmoc-PNA-U-OH
CAS: 959151-70-3
Chemical Formula: C25H24N4O7
Molecular Weight: 492.49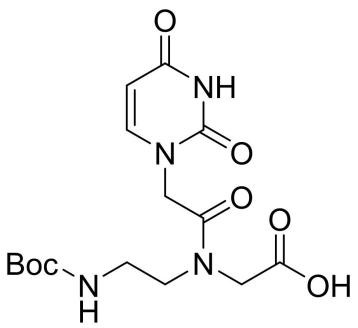 Boc-PNA-U-OH
CAS: 149500-74-3
Chemical Formula: C15H22N4O7
Molecular Weight: 370.36
Boc-PNA-thioU(PMB)-OH
CAS: 253438-99-2
Chemical Formula: C23H30N4O7S
Molecular Weight: 506.57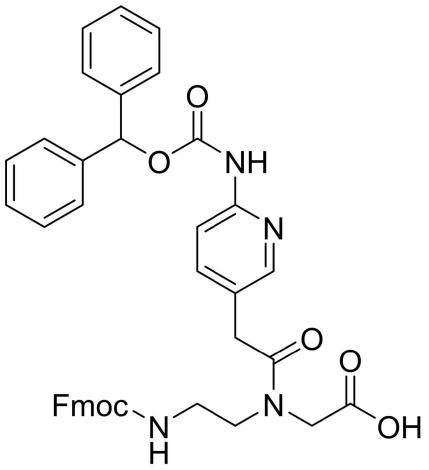 Fmoc-PNA-M(Bhoc)-OH
CAS: NA
Chemical Formula: C40H36N4O7
Molecular Weight: 684.75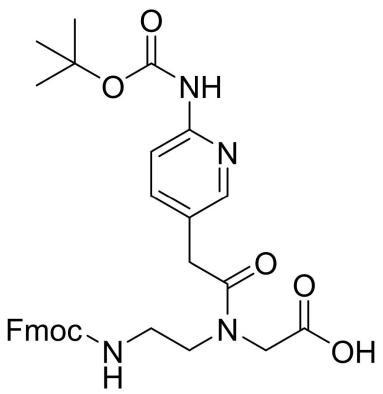 Fmoc-PNA-M(Boc)-OH
CAS: 1417611-27-8
Chemical Formula: C31H34N4O7
Molecular Weight: 574.63
Boc-PNA-M(Z)-OH
CAS: NA
Chemical Formula: C24H30N4O7
Molecular Weight: 486.53
Fmoc-PNA-J(Bhoc)-OH
CAS: NA
Chemical Formula: C39H35N5O8
Molecular Weight: 701.74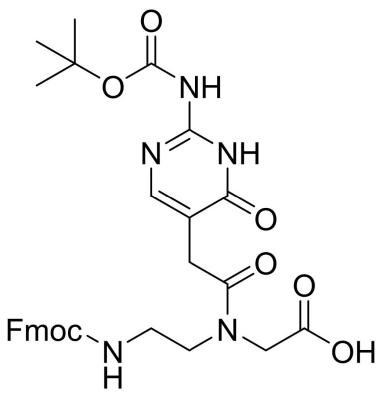 Fmoc-PNA-J(Boc)-OH
CAS: 1095275-70-9
Chemical Formula: C30H33N5O8
Molecular Weight: 591.62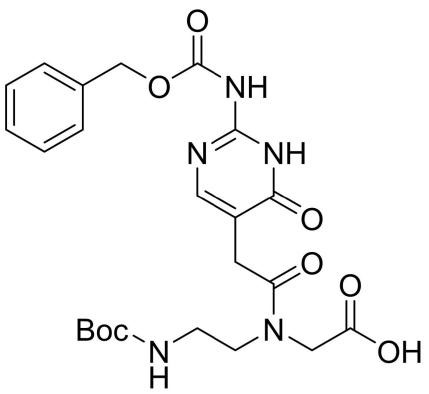 Boc-PNA-J(Z)-OH
CAS: 163081-03-6
Chemical Formula: C23H29N5O8
Molecular Weight: 503.51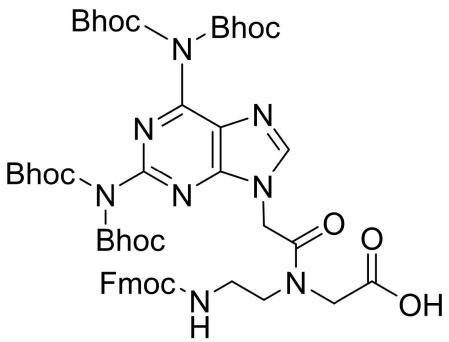 Fmoc-PNA-D(tetraBhoc)-OH
CAS: NA
Chemical Formula: C82H66N8O13
Molecular Weight: 1371.47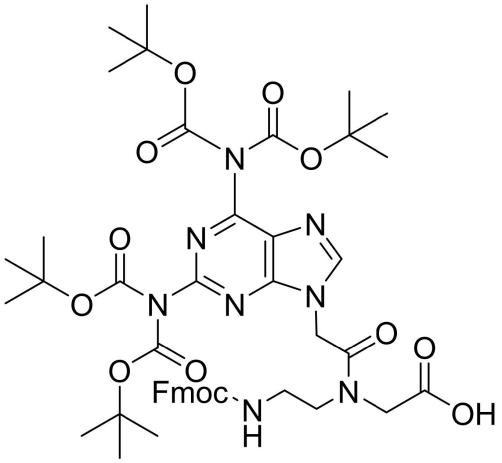 Fmoc-PNA-D(tetraBoc)-OH
CAS: 2101661-88-3
Chemical Formula: C46H58N8O13
Molecular Weight: 931.01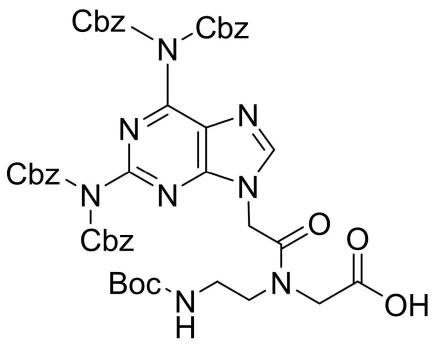 Boc-PNA-D(tetraZ)-OH
CAS: NA
Chemical Formula: C48H48N8O13
Molecular Weight: 944.96