Glycopeptides Synthesis Service
* Please kindly note that our products and services can only be used to support research purposes (Not for clinical use).
On the basis of extensive experience in peptide synthesis, Creative Peptides proudly offers the most comprehensive glycopeptides synthesis services to our worldwide clients. Our scientists are committed to deliver high quality glycopeptides which will go through strict mass spectral and HPLC analysis to meet our customers' demands.
Glycopeptide has been widely recognized as peptide that contains carbohydrate moieties (glycans). Due to the natural linkage between glycan and the amino acid residues of peptide, glycopeptides can be classified into three types: N-linked, O-linked and C-linked glycopeptides. Among them, N-linked glycopeptides are the most common type in nature, with N referring to the asparagine that attached by the glycan. Glycan of O-linked glycopeptides is commonly linked to the hydroxyl groups of serine and threonine, while sometimes also binding to lysine, proline and tyrosine. The least common C-linked glycopeptides are recognized as the attachment between mannose and tryptophane.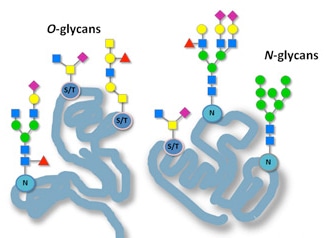 Glycopeptides, especially the glycan chains, have played pivotal roles in various biological activities and involved in numerous biological recognition events, such as immune system, endocrine system, protein folding and cell communication. There are three major roles of the glycans:
| | |
| --- | --- |
| 1. | The sugars confer stability on the proteins to which they are attached, protecting them from proteases and non-specific protein-protein interactions. |
| 2. | Glycans play key roles in signal transduction, control of cell development and differentiation. |
| 3. | Specific regions of the oligosaccharide chains provide recognition epitopes, which influence innate and adaptive immune responses. |
In recently years, more and more attention has been focused on the function of glycopeptides in immunology realm. It is well-known that a majority of key molecules, which involved in innate and adaptive immune response, and some secondary metabolites produced by microorganism are all glycoeptides. And the glycosylation of immunoglobulins plays key roles in the regulation of immune reactions: glycans located at various sites modulate a diversity of immunoglobulin properties, including protein conformation, stability, serum half-life and binding affinity. In the meantime, changes in glycans or glycopeptides may also be involved in a variety of human immune-related diseases, such as rheumatoid, autoimmune disease, Wiskott-Aldrich syndrome, infection disease and even cancer. In this way, synthetic glycopeptides have provided a unique frontier for the investigation and better understanding in both glycobiology and proteomics, and also contribute to the development of either biotechnological or therapeutic applications.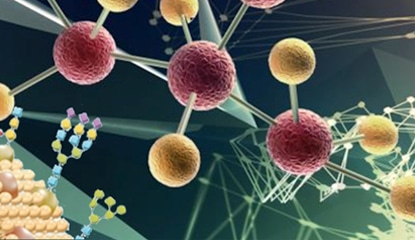 To facilitate our clients' research and project development, Creative Peptides is able to provide a comprehensive list of glycopeptides synthesis services, which includes:
N-Linked Glycopeptides Synthesis
O-Linked Glycopeptides Synthesis
C-Linked Glycopeptides Synthesis
Glycopeptide-based Vaccine Development
Glycopeptide Antibiotic Development
Customized Glycopeptides Design
If you have any peptide synthesis requirement in mind, please do not hesitate to contact us at . We will endeavor to provide highly satisfying products and services.
Customer Support & Price Inquiry