Trimetazidine is a partial fatty acid oxidation inhibitor that inhibits 3-ketoacyl CoA thiolase, one of the enzymes of fatty acid ß-oxidation. This results in an increase in glucose oxidation. In pressure overload-induced hypertrophied rat hearts, trimetazidine reduces glycolysis, enhances glucose oxidation, and improves post-ischemic recovery. The beneficial effect of trimetazidine on left ventricular function has been attributed to the preservation of intracellular myocardial high energy phosphate levels. Effects of trimetazidine on left ventricular (LV) cardiac phosphocreatine and adenosine triphosphate (PCr/ATP) ratio in patients with heart failure has been confirmed by Fragasso et al. However, in recent years, aside from their established roles as anti-anginal drugs in coronary artery disease, novel therapeutic applications for trimetazidine have been discovered for several other conditions including non-ischemic cardiomyopathy, sepsis, myocardial dysfunction induced by anti-cancer drugs, diabetic cardiomyopathy and contrast-induced nephropathy (CIN).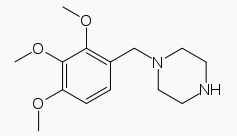 | | |
| --- | --- |
| CAT# | 10-101-126 |
| Product Name | Trimetazidine |
| CAS No. | 5011-34-7 |
| M.W/Mr. | 266.35 |
| Molecular Formula | C14H24N2O3 |
Mechanisms of action of trimetazidine in heart failure
In heart failure patients, trimetazidine treatment is associated with a reduction of whole body resting energy expenditure. It is known that the rate of energy expenditure is related to increased serum free fatty acid oxidation and both energy expenditure and serum free fatty acid oxidation correlate with left ventricular ejection fraction (inversely) and growth hormone, epinephrine, and norepinephrine concentrations (positively). It has been shown that treatment with trimetazidine 3-months added to the conventional therapy, reduced whole body resting energy expenditure, along with the improvement of the NYHA functional class, quality of life, and left ventricular function, in patients with systolic heart failure, regardless of its etiology and diabetic status. The observation that the beneficial effect of trimetazidine on left ventricular function is paralleled by a reduction of whole body rate of energy expenditure underlies the possibility that the effect of trimetazidine may be also mediated through a reduction of metabolic demand at the level of the peripheral tissues and, in turn, to some sort of central (cardiac) relief. Therefore, reduction of whole body energy demand could be one of the principal mechanisms by which trimetazidine could improve symptoms and left ventricular function in patients with heart failure.
Trimetazidine and Non-ischemic cardiomyopathy
Non-ischemic cardiomyopathy is a heart muscle disease characterized by electrical and/or mechanical dysfunction in the absence of other cardiac diseases. "Dilated cardiomyopathy (DCM)" is a group of non-ischemic cardiomyopathies (NICMs) characterized by impaired systolic function and dilatation of one or both ventricles. Trimetazidine has been shown to exert protective effects in DCM. Recent studies have found that trimetazidine protects cardiac cells from intracellular acidosis, rapidly restores phosphorylation processes, reduces oxidative damage, and prevents intracellular accumulation of calcium and sodium ions. These effects protect myocardial cells against necrosis and apoptosis: two processes that are fundamental to the progressive decline of contractile function in DCM. Patients with DCM that were treated with trimetazidine showed improvement in altering left ventricular(LV) remodeling and LV function three and six months following treatment. Trimetazidine treatment also improved cardiac symptoms and function in patients with DCM.
Trimetazidine and Sepsis
Sepsis, a complication of infections, is a factor in at least a third of all hospital deaths. In response to microbial insult, sepsis is characterized by inflammation, vasodilatation, leukocyte accumulation and increased microvascular permeability. Cytopathic injury, tissue ischemia, immunosuppression and apoptosis are major mechanisms in sepsis. Oxidative stress may also be a major contributor to sepsis. Trimetazidine has been demonstrated to limit ROS, maintain cellular ATP level and protect tissue from free radicals in ischemic cardiac tissue. It has been demonstrated that NF-κB pathway promotes the production of ROS and proinflammatory cytokines, and Nrf2 pathway protects against inflammation by activating antioxidant cascades. In the excessive inflammatory response of sepsis, pro-inflammatory cytokines are involved in the inflammatory response, expand the inflammation, and play an important role in tissue injury and disease. In addition, lipopolysaccharide (LPS) has been demonstrated to induced macrophage inflammatory through Toll-like receptor and lead to the release of proinflammatory cytokines.
Trimetazidine and Contrast-induced nephropathy
Because of the increasing use of contrast media in radiologic and cardiologic procedures and the increasing prevalence of persons vulnerable to contrast-induced nephropathy, kidney failure due to CIN has become a growing concern. Despite the many strategies developed to prevent CIN, such as oral hydration, acetylcysteine, hemofiltration or hemodialysis, statins, use of nonionic contrast media and reducing the volume of contrast media administered, there is no clear consensus on the most effective intervention to prevent or reduce CIN. Trimetazidine is a novel alternative therapy that has been shown to be effective in preventing CIN. A recent study found that the serum creatinine levels in patients with CIN treated with trimetazidine significantly decreased on the seventh day following a coronary angiogram when compared to untreated patients.
References:
Lopatin, Y. M., Rosano, G. M., Fragasso, G., Lopaschuk, G. D., Seferovic, P. M., Gowdak, L. H. W., ... & Ponikowski, P. (2016). Rationale and benefits of trimetazidine by acting on cardiac metabolism in heart failure. International journal of cardiology, 203, 909-915.
Zou, H., Zhu, X. X., Ding, Y. H., Jin, Q. Y., Qian, L. Y., Huang, D. S., & Cen, X. J. (2017). Trimetazidine in conditions other than coronary disease, old drug, new tricks?. International Journal of Cardiology.