Stable Isotope Labeled Amino Acids
Browse products name by alphabetical order:
A broad range of stable isotope labeled amino acids are now available from Creative Peptides. To date, isotope labeled amino acids have a wide use in the quantitative proteomics, NMR studies, metabolomics and pharmacokinetic analyses etc. But what are stable isotope labeled amino acids? Here are some introductions about these important amino acids.
What are stable isotope
Atoms with the same atomic number but with different atomic masses are called isotopes.
According to the different characteristics of these isotopes, they can be divided into two main types: radioactive isotopes and stable isotopes. Isotopes, which emit radioactive rays and neutrons, are called radioisotopes. While isotopes that are always stable are called stable isotopes. For example, there are three isotopes of hydrogen. Two of these isotopes 11H and 21H atoms are stable isotopes (not radioactive), while 31H tritium is radioisotope.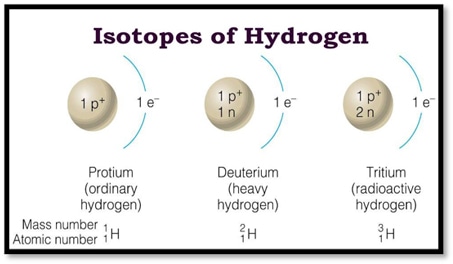 Figure 1 Isotopes of hydrogen
Likewise, the most frequent substitutions of non-radioactive amino acids are 12C by 13C, of 14N by 15N, and of 1H by 2H (deuterium). All isotopes in the products of the amino acids from Creative Peptides are stable isotopes.
What are stable isotope labeled amino acids and the applications of them
As we know, amino acids consist of four key elements, and they are carbon, hydrogen, oxygen, and nitrogen. Normally, the four key elements present a mass number of, respectively, 12 (C), 1(H), 16(O) and 14(N). While the stable isotope labeled amino acids are amino acids labeled by special procedures using these stable isotopes. For example, L- alanine, the chemical structure shown in Figure 2, amino acids in which some of the normal carbon atoms are replaced by 13C isotope, are called 13C-labeled amino acids, in which some of the nitrogen normal atoms are replaced by 14N isotope, are called 14N-labeled amino acids and so forth. There are four types of labeling elements are currently available from creative peptides, 18O, 15N, 13C, and 2 H (deuterium).

Figure 2 Non-labeled alanine,13C labeled alanine,15N labeled alanine
At present, the isotope labeled amino acids are mainly applied in cell culture for quantitative proteomics and as a reagent for analysis of the tertiary structure of proteins and so on. The basis for the use of stable isotope labeled amino acids in a variety of applications is because under certain conditions labeled and unlabeled amino acids behave differently. For example, when cell culture is along with stable isotope labeled amino acids, the new synthesis protein can labeled by isotope. The isotope labeled and non-labeled remain distinguishable by MS. This isotope labeled amino acid in cell culture provides precise relative quantification without any chemical derivatization or manipulation and enables development of elegant functional assays in proteomics. Another example. the protein including labeled amino acids can be analyzed by nuclear magnetic resonance (NMR). That mean the structure of proteins may be determined by this method in a shorter period of time than by X-ray crystallography. To date, isotope labeled amino acids provide the ability to incorporate13C, 15N, and/or 2 H labels into the protein, allowing the user a significant level of flexibility to create uniform, selective, or site-specific labeling patterns throughout the protein structure. While isotope technique will allow stable isotope labeled amino acid relatively cheap and accurate production of isotope labeled peptides candidates for applied in large scale.
Why Creative Peptides
Creative Peptides offers a full line of stable isotope labeled amino acids for full supporting your research in this area. We can provide more than 690 stable isotope labeled amino acids include amino acid mixtures as well as all twenty amino acids with a variety of labeling patterns for all of your research needs. And we also provide stable isotope labeled peptides services, from research purity to cGMP grade. To request pricing please contact us or fill out an inquiry form below. Can't find the item you are looking for? Please inquire.