D Amino Acid Peptide Synthesis Service
* Please kindly note that our products and services can only be used to support research purposes (Not for clinical use).
According to the central dogma established by classical naturalists and biologists, proteins/peptides were expected to be exclusively constituted by 20 building blocks, including 19 L-amino acids (L-AAs) and glycine, which is not chiral. At that time, special cases were reported for D-amino acids (D-AAs) containing proteins/peptides such as the presence of D-alanine in octopine derivatives from octopus.
From a functional point of view, these post-translational and chemical modifications in D-AAs containing proteins/peptides confer on them an unusual stereochemistry mostly related to enhanced resistance to enzyme-catalyzed breakdown.
It is worth mentioning the composition of retro-inverso (RI) peptides, also known as all-D-retro peptides or retro-enantio peptides, which are composed of D-AAs assembled in the reverse order to that of their parent L-sequence.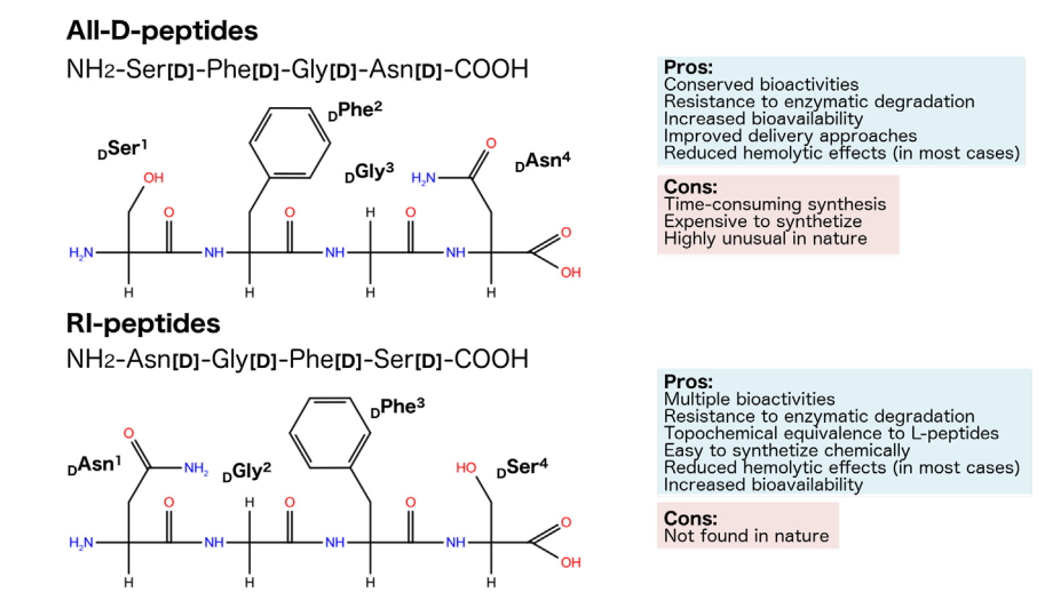 Figure 1 Representation of the planar structure and chirality of hypothetic L-, diastereomeric, all-D- and RI-peptides, also highlighting their pros and cons.
Advantages of retro-inverso peptides:
structural stability
spatial orientation
side-chain topology
the peptide's bioactivity
General applications of D-AAs containing peptides
anticancer and antiinflammatory agents
inhibitors of amyloidogenesis
delivery agents
antibacterial/antifungal, antibiofilm etc.
Reference
Marlon H. Cardoso, Elizabete S. Candido. (2017). Peptides containing and retro-inverso peptides: D-amino acids General applications and special focus on antimicrobial peptides.
If you have any peptide synthesis requirement in mind, please do not hesitate to contact us at . We will endeavor to provide highly satisfying products and services.
Customer Support & Price Inquiry